Update from Mayor Lordon Friday Afternoon
Mayor Adam Lordon continues to keep city residents updated through his official Facebook Page @adamlordonnb. The following update was posted this afternoon:
Friday January 27 – 2:00PM City of Miramichi Ice Storm Recovery Update – Please Share
A short time ago, at 1:00PM Council and our senior management team had a briefing with NB Power executives about their plans and progress in Miramichi.
As of 1:30pm we are sitting at around 3700 outages in the city of Miramichi. This is about the same as when the day began. NB Power continues to tell us 85% of the city will have power back by the end of the day. They also assured us they will have estimated restoration times for the remaining 15% by the end of the day.
As people get power back, it is important for everyone to understand that the situation is not yet fully stabilized. There are still many branches covered in ice that may continue to fall. This means, if you have power please be cognizant that you may still lose it again before this is all done.
NB Power is working from the city cores out, so as the bulk of the city comes back online, in more thinly populated areas of the city, like my own street, and in surrounding communities, it could still be a couple of days before power is fully restored.
NB Power has confirmed for us, there is no major infrastructure issues and no damage to transmission stations and sub-stations. This confirms what we said yesterday that the damage is to the lines themselves and progress will be slow and steady.
As more residents have their power restored, we ask them to be mindful that for hundreds of their friends, neighbors, and fellow citizens this will remain an ongoing event, and we as the city will continue to work with this in mind.
That means our warming centers will continue to remain open at the Golden Hawk Rec Center and the Linden Rec Center so that we can continue to provide warmth, hot food, and hot showers.
The temperatures are expected to drop tonight to colder than since we first lost power, so we are encouraging all residents to ensure they are prepared for the night ahead, and please take advantage of our overnight warming centers if you need to.
Yesterday we have over 200 citizens pass through the Golden Hawk warming center, and over 100 at the Linden. Combined there were about a dozen who spent the night.
Transportation continues to be available to the Golden Hawk Warming Center by calling 623-2066. If you are planning to spend the night, we will be providing transportation up until midnight and resume again in the morning.
For those in need, small quantities of water are available at the warming centers, but people are asked to bring their own containers.
This morning members of the Police force did a "Well Being Check" at Retirement Miramichi and staff there are now going door to door to check on residents.
For those who are now turning their attention to cleaning up their yards, first of all please be careful, especially if using chainsaws and other power tools.
We have also now confirmed several sites within the city for Tree and Brush drop offs around the city. These sites will open for use first thing tomorrow morning. They will be clearly identified with 4×8 foot signs and will be located at:
Newcastle – Cardinal Park at 650 Beaverbrook Road
Nelson – Miramichi ski club at 127 Nelson street.
Douglastown – Former Benny Vautour Ballfield 86 McKinnon road. Near the corner of McKinnon and Williston.
Chatham – In the Industrial Park across from 170 Walsh avenue
Loggieville – 1100 Wellington street
For those who may not be able to get their debris to these sites now, we will also provide a similar service in the spring.
We are also now working on a plan for special disposal of spoiled food. When those details are available they will be released.
We are also continuing to ask citizens to conserve water.
With so many still effected all recreation programs and facilities will remain closed today and tomorrow.
Council will meet again tomorrow to review the status of these facilities for Sunday and moving forward.
Once again we want to remind everyone that all storm related calls to the police, fire, and public works departments are being handled on a priority basis.
Please be mindful of all NB Power and Public Works crews working out there.
We once again thank the public for their patience and cooperation during this challenging time and have been very encouraged by all the stories of community members coming together and helping each other out.
We also thank the senior management team, and the fire, police, public works, and recreation staff who have been tirelessness and extremely effectively to execute our city's operations during this challenging time.
Mayor Adam Lordon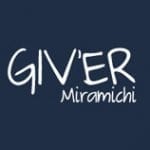 Giv'er Miramichi is about "What's up, what's new, what's happening". We are focused on building people up, supporting one another and celebrating our successes.