Merchandise Bingo Fundraiser for Local Girl Guides in Eel Ground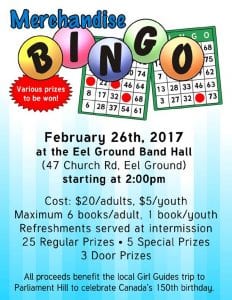 There will be a Merchandise Bingo on Sunday February 26th, 2017, beginning at 2 pm at the Eel Ground Band Hall, 47 Church Road, with all proceeds going to the local Girl Guides trip to Parliament Hill to celebrate Canada's 150th Birthday.
The cost is $20 for adults and $5 for youth. There will be a maximum six books per adult and one book per youth.
Refreshments will be served at intermission.
There will be various prizes to be won including 25 regular prizes, five special prizes and three door prizes!
Find more community fundraising events like this one in Mighty Miramichi's Events Calendar, and if you have a special fundraiser coming up you can add your event free of charge.