Miramichi Seniors – A United Voice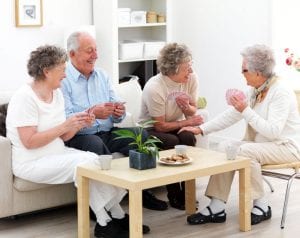 Miramichi Seniors want you to know they are active in speaking out for the rights of senior citizens in New Brunswick! Approximately 300 seniors in Miramichi are part of the NB Senior Citizens Federation, an organization devoted to the advancement of issues related to the well-being of all seniors aged 50 years and over in New Brunswick.
Aline Vautour Siddall, president of the Miramichi Zone, says the Federation wants to dispel the belief that seniors are a burden to society. "All the volunteer work done by seniors in the communities amounts to millions and millions of dollars if it had to be done by paid employees. Furthermore, we still pay full taxes to support government programs, hospitals, schools, prisons, infrastructure, etc."
The Federation, which has 17,500 plus members in NB, lobbies the government for better conditions in hospitals, retirement homes, home care, life-saving medication (for young and old) to be covered by Medicare, free prostheses for amputees, programs to help less fortunate stay in their home longer, diabetic supplies, and more. These efforts also help the general population. All this work is done by volunteers except for the three employees at the Federation office in Moncton.
Aline says another very important part of this seniors network is the social aspect. "Being part of the group gets people in touch with other people. You meet people your age who share similar interests and live in your community that you may have never met before. You learn who doesn't drive and would appreciate being picked up for an event, or who has children living away and will be alone for the holidays."
Members of the Miramichi Zone are aged 50 to 97 years with the majority falling in the mid-range around 65 years old. Aline says, "The younger ones help with getting things set up like for dances, or if there is any carpentry to be done, preparing meals, etc. The members over 80 years old don't usually help in that way but we don't expect them to, at that age they deserve to take a break."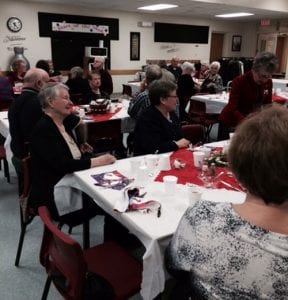 The group plans a variety of events throughout the year. Some are fundraisers that cover the cost of trips and other events so they are able to make them free for members to attend. Events include: card games, dances, bowling, dinners, carpet curling, snowshoeing, sleigh rides, kitchen parties, and bus trips to plays, concerts, and the casinos in Moncton and Halifax. Some events are fundraisers for the local food bank, members who are in need (one member who lost their home due to fire), and other charities. In January they had a computer course planned which was filled up weeks ahead.
"It's more than just getting together for physical activities," says Aline. "It's about creating a sense of community and looking out for each other. If someone is sick and living alone they now have a network of people who can call and check up on them, drop off groceries if they need it, that sort of thing. A lot of men and women are alone and some come to the dances and find a partner to dance with, and others just want to get out of the house and come and listen to the music."
Aline has also been busy working on a project to bring savings to their members. She has developed a pamphlet that lists all the local businesses who have agreed to give a discount to seniors who show their membership card.
How to Join
There are individual clubs throughout the region that are part of the Federation and belong to the Miramichi Zone including:
Burnt Church/ New Jersey Seniors Citizens Inc.
Barryville Golden Age Club
Derby Seniors
Island View Seniors, Sunny Corner
Douglastown Friendship Club
Friendly Neighbours Senior Citizens, Nelson
Rexton Golden Age Club
Any community, town or village can form a club and become part of the Federation as long as they have a minimum of 15 people to join. The membership fee is $11 or $12 per year depending on the club. Interested seniors can join any club regardless of where they live and members can attend the events in any club, not just the one you join. Different clubs plan different events and Aline sends out an email to all the clubs letting them know what is going on so everyone can participate.
If anyone is interested in joining and you don't have a club in your area, contact Aline and she will be glad to talk to you about what they do and put you on the email list to receive updates. The group is very welcoming to new members and all seniors are encouraged to join, to be a part of the provincial network of seniors working to make a difference, and to take part in social activities in the community. For more information contact Aline Vautour Siddall at 836-2919 or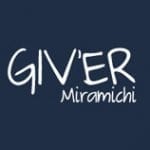 Giv'er Miramichi is about "What's up, what's new, what's happening". We are focused on building people up, supporting one another and celebrating our successes.