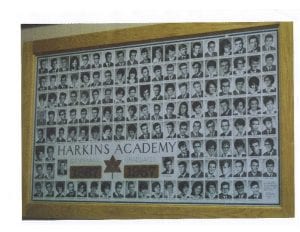 Fifty years ago this June, the Harkins Academy High School graduates, Class of 1967, were on stage at the Sinclair Rink receiving their graduation diplomas and anxiously awaiting their graduation prom and after prom parties. Because both Canada and Harkins turned 100 years old that year, these students were named the Centennial Graduates.
To celebrate this milestone, a reunion committee, consisting of Janice Roy, Brian Richards (Class valedictorian), Carmel Hambrook, Elwin Hubbard, Marion Fitzpatrick, Ernie Maltby, Donnie O'Neill and John Bosma, have been planning the Harkins Grad '67 Reunion since June, 2016. They have been busy organizing and getting in contact with as many Harkins graduates of 1967 as possible.
The committee has planned three days but have indicated that former students are welcome to participate in one or more of the activities planned. To start things off, on Friday, June 30th, the former graduates are welcome to tour Harkins Academy in the afternoon from 3-4 pm. At night is the Harkins Grad '67 Meet and Greet from 7-10 pm at the Kin Centre, the Newcastle Town Hall in the old days. Featured that night is DJ Ev Gray and the music of the 60's along with a photobooth, finger food and skill-testing contests. Cover fee is $10 per person. At 8 pm, the former teachers, able to attend, and invited guests will be introduced. In addition, there will be an In Memoriam to the former students no longer with us.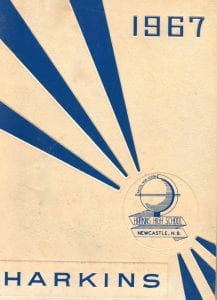 Then on Saturday, Canada's 150th Birthday, a book launch of John Bosma's book of short stories entitled Fat Jack, His Fatmobile & The Fatcave and Other Stories will be held at the Miramichi Golf & Country Club from 10:30 am to 12:30 pm. Five dollars of each book sale will go towards a Harkins Grad '67 scholarship for one MVHS Graduate, Class of 2017, who was a former Harkins Elementary and Middle School student. Lunch will be available at Mulligans Pub which will be offering the '67 Special (Soup, Sandwich & Salad) for $6.70. Everyone is welcome to attend the event and asked to use the front door entrance.
For those former graduates who purchase tickets well beforehand, by contacting a committee member, there will also be a Boat Ride on the Miramichi River on the Max Aitken for $10 per person and, for $15 per person, a reserved '67 Grad Table at the Rock n' Roll Festival Dance at night. Those wishing to see the Canada Parade in Newcastle at 1 pm may do so at no cost.
Finally, on Sunday, July 2nd, a Grad '67 Brunch is planned at the Riverside Entertainment Centre in Douglastown, overlooking the Mighty Miramichi. The committee would need an indication of those planning to attend to reserve the necessary tables.
Harkins Academy closed its doors in December, 2016. Consequently, to honour the founder John Harkins and to celebrate 50 years since graduation, the committee is hoping that many former '67 Grads will attend one or more of the activities planned. Come one and all to demonstrate your HARKINS SCHOOL SPIRIT.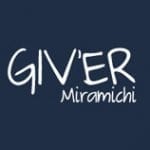 Giv'er Miramichi is about "What's up, what's new, what's happening". We are focused on building people up, supporting one another and celebrating our successes.