Miramichi Fishing Report for Thursday, April 27, 2017
MIRAMICHI – Spring salmon season appears to be quite good in most places and slower to average in others.  Striped Bass are sporadic at best thus far, with a few here and there as the water is still too cold for good fishing.
W. W. Doak and Sons in Doaktown said angling was pretty good with good numbers being caught.  There was a good mix of salmon and grilse, with probably an edge on the side of salmon, some in the 40-inch range.  Fishing was still good further up-river in Boiestown where one boat caught 70 plus fish in nine days.  The water levels were a bit low, but rain on Wednesday should bring the water up with maybe a day or so of dirty conditions, but it should clear for the weekend.  With the colder water and fish still up-river, the season should still be good as we head into May. Flies of choice were Renous Specials, Christmas Trees, Gray Ghosts, Black Ghosts, Smelts and Marabous.
Andrew Anthony of Ledges Inn in Doaktown and Mountain Channel in the Rapids area said they were having good fishing.  Some mornings were a bit slow, but the afternoons were better.  The water had been a bit on the low side, but Wednesday's rain should bring it up nicely.  They were getting a lot of salmon in the 30-inch range with one 40-plus.  An interesting observation was the fact that 40% of the grilse were females. Flies of choice were mostly darker patterns as the water was clear.  These included Black Marabous, Black Ghosts and Red Eagles.  With the raise in water, anglers might shift back to brighter patterns such as the Golden Eagles if the water is dirty.
Herb Barry Sr. of Herb's Fly Shop on the Station Road in Blackville said angling was bad, but not great.  They were catching some, with a mix of salmon and grilse.  One angler said five of eight salmon he had caught were big salmon, with one coming in at 42 inches.  The water had been a bit low, but was rising with the rain.  Flies of choice were a wide range as anglers were trying to find anything that worked. They were asking for Blue Smelts, Silver Smelts, Gold Smelts, Golden Eagles, Christmas Trees and Black Ghosts.
Curtis Miramichi River Outfitting in Blackville said anglers were getting some, but not as many as they were further up-river.  A lot were being hooked and lost.   There was a good mix of salmon and grilse with probably more salmon.  A couple were in the 40-inch range.  With rain Wednesday, the water was on the rise, but angling should be good for the weekend.  The smelts were in at Quarryville.  Flies of choice were Golden Eagles, Red Eagles, Black Ghosts, Renous Specials, and Blue Smelts.
Jim Laws of Miramichi Hunting and Fishing in Newcastle, Miramichi reported some Black salmon but not many, as not many locals were out due to the cold weather.  Striped bass were only hit and miss so far with an odd one being taken at Loggieville, Chatham Head and at the mouth of Millstream on the Northwest.  The water is too cold for good bass fishing, but should improve as it warms. Flies of choice were Black Ghosts, Golden Eagles, Renous Specials and Mickey Finns.
Syd Matchett of Trout Brook Fly Shop on the Northwest Miramichi said fishing was pretty good with more salmon than grilse, with a lot of big fish in the 35 to 38 inch range.  The water was done, making it difficult to travel to certain spots, but rain on Wednesday should remove that obstacle. Flies of choice were Golden Eagles, Renous Specials and Blue Smelts.
Debbie Norton of Upper Oxbow Outdoor Adventures on the Little Southwest Miramichi said fishing was "darn good until the rain on Wednesday".  She said they had "tail-walkers and huge fish, a lot in the 30-inch plus range, with one being 44 inches, and they all looked in good shape".  In their annual in-camp competitions, Team UK won the "Blackmore Cup" by a 36-35 score for a total of 69 fish in one day.  The smelts were in there by mid week.  The water had been a bit on the low side prior to the rain.  She felt the water would be a little dirty for a day of so, but should be great for the weekend.  Over all, it has been a great season so far.  Flies of choice were Golden Eagles and Renous Specials.
With a good raise of water and a gradual warming, angling for salmon should be good and the striped bass fishing should improve, so get out and "on the water".
Don't forget to show your support for our sponsors, because without them, this column would not be possible.  

ANY FINANCIAL CONTRIBUTIONS TOWARD HELPING WITH THIS COLUMN ARE GREATLY APPRECIATED. Click here to donate now. Or to donate by mail, send to:
Doug Underhill
438 McKinnon Road
Miramichi, NB, Canada, E1V 6G2
A SPECIAL THANKS to all who made contributions last season.
Thought for the Week: "Sharing the fun of fishing turns strangers into friends in a few hours. Whether you sit with native fishermen in their boat and fish with nets and lines or dive under the sea with them – they will lead you to the haunts of the specimens you desire and you could not find yourself in safer and more enjoyable company."
― Eugenie Clark, Lady with a Spear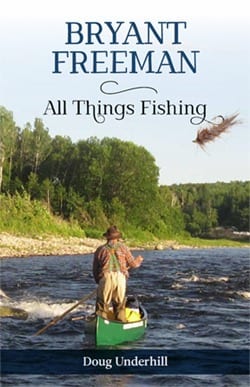 Bryant Freeman: ALL THINGS FISHING by Doug Underhill
NOW AVAILABLE in Stores or from Doug Underhill 438 McKinnon Road, Miramichi, NB, E1V 6G2 or Bryant Freeman 1-506-386-6269
Cover price $19.95
Shipping to Canada $25.00 (Incl shipping & handling)
To US $30.00 (incl shipping & handling)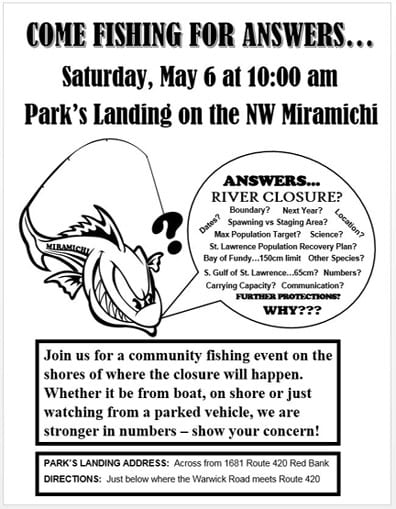 Atlantic Salmon Federation News
Thurs., Apr. 20, 2017

DFO Continues Total Live Release for NB & NS in 2017
Just prior to salmon season opening on Apr. 15, it was announced that in light of low numbers in the past few years, total live release would be the guiding rule in 2017. Read more
http://asf.ca/dfo-determines-live-release-for-2017-in-nb-and-ns_1.html
ASF's Neville Crabbe provides a perspectve on the need for caution in regard to salmon numbers. This is an audio interview:
http://asf.ca/asf-supports-2017-live-release-angling-rules.html
Miramichi Outfitters note that the impsition of live release is not affecting their businesses on the Miramichi.
http://asf.ca/salmon-ban-having-zero-impact-on-outfitter-business-say-own.html
---
Protests Against Grieg's Massive Placentia Bay Salmon Farm Project in NL
On Monday there were a group of protesters in front of the Supreme Court of Newfoundland and Labrador in St. John's. An alliance of conservation, angling, economic and related organizations has been created to support better regulation of salmon farms.
http://asf.ca/nl-protest-at-supreme-court-in-support-of-grieg-lawsuit.html
---
Counting on West River Sheet Harbour Begins
ASF's Lewis Hinks gives an update of the field work this week on this acid rain-impacted river that is being brought back to life through mitigation efforts.
http://asf.ca/news-from-the-regions.html
---
ASF Researchers Get Ready for Busy Field Season
ASF Biologist Graham Chafe talks about the preparations for the work on the rivers.
http://asf.ca/research-in-the-field.html
---
Sea Lice taking a Financial Bite out of Marine Harvest
Sea lice are becoming a major issue on both sides of the Atlantic, but especially in Scotland and Norway. Read about the financial woes resulting, while remembering there is an impact on wild Atlantic salmon.
http://asf.ca/marine-harvest-reveals-high-number-of-farms-have-excessive-.html
---
Financials for Land-based Salmon Farms Now Make them Viable
As the technology has improved, and scale of manufacturing increases, the economics of land-based salmon farms now make sense. Read more:
http://asf.ca/for-land-based-salmon-farming-the-numbers-now-make-sense.html
---
To keep track of breaking news on wild Atlantic salmon, use the Atlantic Salmon Federation's presence on Facebook. Log in, search for Atlantic Salmon Federation, and click "like".
---
REMEMBER TO CHECK LAST WEEK'S REPORT FOR INFORMATION ON the Coalition for Better Salmon Management (In both French & English) Then JOIN Cost is only $2.00.
Anyone wishing to report suspicious fishing activity anonymously is asked to contact the nearest Fisheries and Oceans Canada office or to call Crime Stoppers at 1-800-222-8477
Until next week
TIGHT LINES
DOUG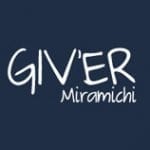 Giv'er Miramichi is about "What's up, what's new, what's happening". We are focused on building people up, supporting one another and celebrating our successes.