Interview with Sean Nelson, CEO of NWE Professional Wrestling
by Riley Harris
NWE is a Professional Wrestling promotion company from New Brunswick which traces its roots back to Miramichi. I chatted with founder, co-owner and CEO of the company Sean Nelson ahead of NWE's Royal Rumble styled event "Top Rope Turmoil" happening May 13th in Loggieville.
RH: Sean Nelson? Am I saying that right?
SN: (Nelson laughs) "That's correct"
RH: Where are you from originally, Sean?
SN: "Born and raised in Saint John, New Brunswick"
RH: What was it that first got you interested in wrestling? When you think back, what is the very first memory you have of wrestling?
SN: "In the early years my brother used to watch wrestling all the time – my brother was very big into wrestling and that's how I got into it. He was watching it one day and I just happened to catch a glimpse of it and just was hooked. One of the first matches I remember actually seeing was Hogan and Andre and that was larger than life for everyone, especially when he gave him that big body slam."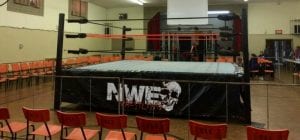 RH: So you just followed your brother's lead. Is your brother still into wrestling?
SN: "As he got older he got out of wrestling and as I got older I got more into it."
RH: It's funny how that happens. Have you wrestled yourself, Sean?
SN: "Yes. I currently am a wrestler on the NWE roster and I've been wrestling since 2010"
RH: And what stage name do you wrestle under?
SN: "Precious Preston Carter. I'm actually the current reigning and defending NWE Elite Champion."
RH: No way! I've seen you in action then. I was in Loggieville at your last event, and you stole the show.
SN: (Nelson laughs) "Yeah the crowd definitely hates Preston."
RH: Now when did this go from you being just a wrestler, to you starting your own business?
SN: "I used to wrestle for the Xtreme Wrestling Alliance, or the XWA, until they folded. I had a friend that wanted to start a wrestling promotion and we were like "yeah let's do it." Then Isaac Malley, who is one of my best friends, came on board as my partner."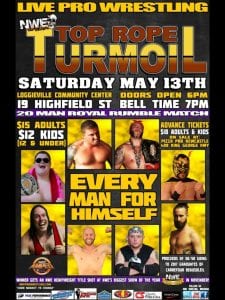 RH: And Isaac Malley is from Miramichi?
SN: "Yeah he's from Miramichi. Isaac has true passion and heart for this business. He's still learning a lot about the business, but he came on as my co-owner, financially and everything. It's hard to do everything on your own, you need a second partner. Isaac will do whatever it takes to make sure the company succeeds, and that's the kind of partner that I want to have."
RH: So when NWE came to life, where did you do your first show?
SN: "Our very first show was actually at the Miramichi Kin Centre. That was our home before we moved to the Loggieville Community Centre, we were there for almost 5 years."
RH: So your company has really deep roots in Miramichi.
SN: "Oh yes, 100%. We've also worked with a lot of Miramichi charities – The Youth House, Breast Cancer, we've worked with Miramichi Food Bank… We do anything we can to try and help with the community because the community doesn't thrive unless it all works together, right?… We're going to be working with some charities this year, too."
RH: Wow that is great. Now to expand on that, have you found that the community's relationship with you has grown over the 5 or so years since this all began?
SN: "Oh yeah, 100%. When we first started running shows we actually had very small crowds. Probably 50-60 people per show. But in the last couple years we have really went all out… we said if these fans are going to come out and support us, then we're going to give back to them – and we're going to start investing in our product. So we dumped probably about Fifteen Thousand dollars into NWE – we bought a new ring, a new stage… just to make sure that everything will look so nice for the fans, and give them the production value that they deserve."
RH: Has your attendance increased?
SN: "Our crowds were doing pretty good… Towards 2015 we were drawing out probably 100-150 people. But now some nights it's up to 300-350 people."
RH: That's impressive. And this spike was right around the time of the investment?
SN: "Yeah. I think the fans appreciate that, because they're coming to your shows all the time spending their money. If everything stays the same, why are they going to keep coming, right? We're selling out shows now."
RH: How many shows have you sold out in a row?
SN: "Last year we sold out every single show. That was 12 or 13 shows straight in Miramichi – we sold out every single show. Even just this last show – the Timberwolves were playing a game and had a crowd of probably 2000 people the same night, and we were still sold out in Loggieville. It shows strength in the product."
RH: Now, the last show in Miramichi, I noticed you had a female wrestler competing. Was that the first time that you had a female wrestler wrestle for your company?
SN: "Yes, it was. The first ever woman. Her name is Delmi Exo."
RH: That's pretty ground-breaking for you, seeing that the sport of professional wrestling is for everyone. Is this something that you'd like to see grow within your company?
SN: "Oh 100% – I'd like to have it to the point where we could start a women's division. And there is going to be more females coming into NWE soon."
RH: Is there any Miramichi wrestlers on your roster, anyone we should keep an eye out for?
SN: "We always have new people that are inquiring about training – right now we don't have any new Miramichi up-and-coming stars, but we always have people inquiring so you never no. Everyone that wrestles for us right now is from Moncton, Fredericton, St. John, Halifax – even from down in the States, Boston area…"
RH: So it's safe to say that you'd definitely be interested in a new wrestler hailing from Miramichi for your roster, seeing how deep your roots are here.
SN: "Oh absolutely, it'd be great if we could get some new trainees, and get them trained to the point where they could make their in-ring debut."
RH: Who in your opinion was the best wrestler to ever come out of Miramichi?
SN: "Tyson Dux. He's wrestled for us before. He's been to WWE, TNA, he's been to all those places. Miramichi born and raised, he's probably one of the best wrestlers to ever come out of Miramichi. And I know Tyson personally and he's a very nice guy."
RH: I know you are a busy man so I won't keep you. Thanks for chatting with me today Sean. I just have one final question for you. How's Homeless Bob? I watched Sidewalk Sam break a hubcap over his back at your last event.
SN: (Nelson laughs) "He's definitely recovering, and he's been officially announced as an entrant for our Top Rope Turmoil match, which is our annual Royal Rumble style match, where the winner gets a shot at the NWE Heavyweight Championship at our biggest show of the year later in November. So you can bet on one thing – he'll be looking for Sidewalk Sam in that match."
NWE's Top Rope Turmoil goes Saturday May 13th at the Loggieville Community Centre. (19 Highfield Street)
Bell time: 7 pm
Adults $15/ Children $12 at the door.
Advance tickets on sale now at Pizza Pro Newcastle (408 King George Hwy) for only $10.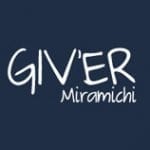 Giv'er Miramichi is about "What's up, what's new, what's happening". We are focused on building people up, supporting one another and celebrating our successes.