A Taste of Miramichi: Quesada Burritos & Tacos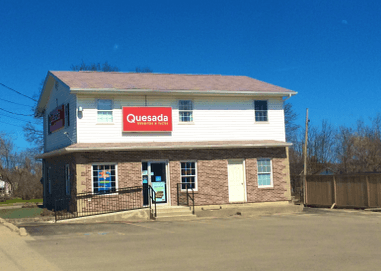 This year, Miramichi will enjoy four weeks of featured menus at 14 restaurants around the river.
A Taste of Miramichi, the Miramichi Chamber of Commerce's dining event, runs from May 15th until June 11th, 2017.
Each participating restaurant will showcase a three-course menu (with two options for appetizer, entree, and dessert) which their chefs feel represent their unique "Taste Of Miramichi".
We will be highlighting each restaurant's menu and sharing a video about them. Today we highlight Quesada Burritos & Tacos, located at 734 King George Highway in Newcastle.
Owner Brendan Clancy invites you to "try Quesada's delicious burritos with our made-fresh-daily salsas and guacamole, and you'll understand why they call it 'The Joy of Mex.' At Quesada, preparing wholesome, nutritious, great-tasting food is the most important thing we do. We take this VERY seriously. We work with Food Smart software to ensure our reporting of the nutritional content and quantities is accurate and consistent. Food Smart is used by consulting, fitness and nutritional professionals, and health care organisations to properly analyse and track the nutritional ingredients in the food you eat. The Food Smart Nutritional analysis is based on the Canadian Nutrient File (containing over 3900 foods) and the Canadian Recommended Nutrient Intakes. It is essential that you make informed choices when selecting the food you eat. We are proud to provide Miramichi with our very best."
Quesada Tacos & Burritos Menu Options:
Appetizer
Chips and Salsa OR Chips and Guacamole
Main Course
Regular Tilapia Fish Burrito OR Regular Cod Fish Burrito
Dessert
Churros
Regular fountain drink included!
($14.46 +Tax)


Come out and enjoy! For more information telephone 506-773-5646.
The post Introducing Quesada Burritos & Tacos in A Taste of Miramichi appeared first on Miramichi Chamber of Commerce.