MSA's 8th Annual First Cast June 24-25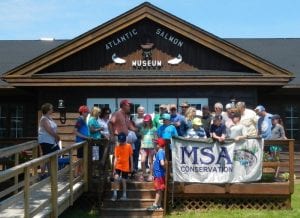 Do you love fly fishing and have a child or grandchild with whom you'd like to share the fun and satisfaction of the sport? Have you a friend who has often said, "I'd love to take up fly fishing for Atlantic salmon, but I don't know where to start"?
If so, on Saturday, June 24 and on Sunday, June 25, the Miramichi Salmon Association will host its 8th annual MSA First Cast, a free event for everyone (young and old) who is eager to learn about the sport of fly fishing for Atlantic salmon.
Registration is free but space is limited so we ask that you register by no later than Friday, June 16th.
Note: There is no requirement to have your own equipment, as MSA can provide you loaner equipment for the weekend. For more Information click here! To register, please contact the MSA's Kate Flanagan at 506-622-4000 or at for more information.

Since 1953, the Miramichi Salmon Association (MSA) and its members have directed their capabilities and their funds to the protection of the entire Miramichi River system. The MSA watches over the Miramichi as a champion of conservation on behalf of anglers, outfitters, guides and all others with economic, environmental and recreational interests in the river.