SYKES Miramichi Joins Global Celebration for 40th Anniversary
MIRAMICHI– Sykes Enterprises, Incorporated, a global business process outsourcing (BPO) leader in providing comprehensive inbound customer engagement services to Global 2000 companies, celebrates its 40th anniversary this week, as the global company marks the anniversary of its founding on September 22, 1977.  Employees in Miramichi will celebrate with special events, including costume days and throw-back Thursday where they will dress in 1970s attire.
Thursday, September 21 featured "Global Hiring Day" when SYKES held open houses or job fairs at sites around the world including in Miramichi.  The anniversary week was capped off with a community event on September 22, with local leaders joining SYKES employees for an official birthday party.
"We're very excited to start 40th-anniversary celebrations with our staff and friends," says Rob Morley, site director of Miramichi. "SYKES is a people-first type of place. We care about others and support our communities. Celebrating together with these different groups is a business priority for us."
Says SYKES President and CEO Chuck Sykes, "Our success over the last 40 years is due to the people of SYKES.  They live our culture of helping others.  Our 40th anniversary is not just a celebration of the company we've built, but an appreciation for and celebration of the people who dedicate their time to helping other people."
SYKES was founded in 1977 in Charlotte, North Carolina as an engineering firm by John Sykes. What began with three people grew into a family of 55,000 around the globe, with 260 here in Miramichi.   Eventually SYKES began offering customer technical support after John Sykes discovered a toll-free number in a technical manual and saw an opportunity to move into customer service.  Today, SYKES is a digital marketing, customer service and technical support provider to some of the world's most popular brands.
SYKES first opened its doors in Miramichi in 2000.  Worldwide, SYKES has 65 locations in 20 countries (including 25 in North America).
"Miramichi is more than just a place that we do business, it's home," says Morley. "Every year our teams make a conscious effort to show appreciation for the place we love, and to give back to the community."
The site sponsors the Miramichi Ground Search and Rescue Team and conducts regular charity drives for the local SPCA, women's shelter, food bank, local schools and local amateur sports.
Says Chuck Sykes, "SYKES has stood the test of time.  While we've grown to adopt new technology, and to meet the evolving needs or our clients, we've remained true to our founding values.  We care.  We act. We make a difference.  And that is worth celebrating."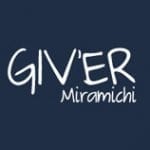 Giv'er Miramichi is about "What's up, what's new, what's happening". We are focused on building people up, supporting one another and celebrating our successes.