The Secret Travelling Life of the Atlantic Puffin
Using sunrises and sunsets, researchers may finally have a better picture of where Atlantic puffins spend most of their lives.
The brightly billed birds are often studied in their summer breeding season, but where they go for the rest of the year has been a mystery.
It now appears that many Bay of Fundy puffins don't venture all that far.
"The non-breeding season is two-thirds or three-quarters of the life of a puffin and we had no idea what went on in those years," said Tony Diamond, an ornithologist at the University of New Brunswick, and one of the authors of a research paper exploring the issue.
"Until the technology came along that we could track them."
That technology came in the form of tiny light sensors that were banded to the legs of 270 puffins from 25 different populations across the North Atlantic. The study included puffins from Canada, Norway, Ireland, Iceland, the United Kingdom and the U.S.
Every couple of minutes, the sensors record the amount of daylight the puffins experience. Once the data is collected, the scientists are able to use it to map out where each bird has been in the world, based on the length of the day.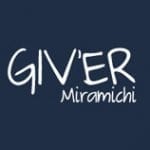 Giv'er Miramichi is about "What's up, what's new, what's happening". We are focused on building people up, supporting one another and celebrating our successes.