Greetings from the Canada Day in Monaghan Committee
A chairde Gael,
Greetings from the Canada Day in Monaghan Committee and wishing everyone (early) Happy St. Patricks Day. Please find enclosed information on our most recent endeavours in strengthening Irish Canadian relations, culminating over the past two years in hosting Canada Day in Ireland and thirty years previously through municipal twinning with PEI and Miramichi NB.
Best regards,
Sean Conlon, Chairman Canada Day in Monaghan Committee
Monaghan County Council
Visit to the Canadian Ambassador's Residence.
From the early '90's Monaghan has become accustomed to meeting with Canadian Ambassadors to Ireland and they have all been very genuine people with a real interest in Monaghan and the Monaghan links with various parts of Canada.
Monaghan County Council decided three years ago to organise an event to celebrate Canada Day, which falls on July 1st each year. Cllr. Sean Conlon was appointed Chairperson of the committee tasked with organising a suitable and appropriate celebration. Some external members were co-opted onto the committee and now looking back on two years of the Canada Day festival in Monaghan we must say that the idea caught the imagination of the public and we have discovered a very big number of Canadian citizens living in Monaghan and the surrounds. Last year the event was boosted with the Today Fm broadcasting the Allison Curtis radio show from Monaghan on Canada Day. This was sponsored by Air Canada and gave a very wide audience to what was happening in Monaghan.
For the past two years the Canadian Ambassador in residence has been Ambassador Kevin Vickers and he has attended the Monaghan Festival both years and has expressed his delight at the efforts in Monaghan to recognise the links between Monaghan and Canada. In return he invited members of the committee and partners to an evening with him in the Canadian Ambassador Residence in Dublin and this took place on Wednesday, February 21st.
Travelling by Rice coach the party arrived on time at the Residence and there we met up with a couple of others who had been invited. These included Allison Curtis from Today Fm and Blaithin O'Donnell representing Air Canada. Also there were Patrick, Zoe and Griffin Armitage of Sheskin Salmon and they had a special present for the Ambassador. Indeed little Griffin became a big hit with everyone and the Ambassador became a close friend. Members of MOPOSOGS were there as they had produced a CD for last year dealing with the Monaghan/ Canada connection. Dara McGabhann, Des Murphy and Caitriona Sherlock sang beautiful and appropriate songs for us. They presented the Ambassador with gifts. Catherine Elliot, Monaghan Librarian, also presented gifts from Monaghan County Council. On behalf of all, Cllr. Cathy Bennett, Mayor of Monaghan, thanked the Ambassador for the invitation and the lovely reception held in our honour. She thanked the staff for the refreshments and hospitality. Cllr. Sean Conlon also spoke and expressed appreciation to the Ambassador.
In the course of the chat it came up that the Ambassador is due to attend a function in Monaghan and he was invited to make the visit a two day event so that he can be introduced to commercial interests, which could benefit both countries. That is now a distinct possibility. Also negotiations took place and Air Canada has come on Board as sponsor for 2018 and Allison Curtis and TodayFm will begin organising a broadcast from Monaghan to coincide with Canada Day 2018. This was a memorable visit to the Ambassador and an honour to be there. It has also strengthened the bonds between Monaghan and Canada and only good can come from that. For myself I would like to thank the Ambassador for his friendship with and interest in Monaghan and for affording us the opportunity of spending an evening with him in residence. Also present were Peter Hughes and Rory from the Northern Standard and no doubt they will carry a full report and photographs in next week's edition.
To view photos from the visit to the Canadian Ambassador's Residence follow this link: http://www.emyvale.net/canadian%20ambassador.html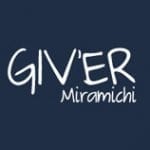 Giv'er Miramichi is about "What's up, what's new, what's happening". We are focused on building people up, supporting one another and celebrating our successes.