Meet the Chef – Mario Poirier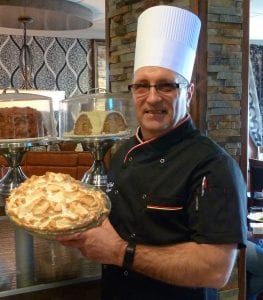 Meet Mario Poirier, Chef at Restaurant Chez Raymond in Neguac.
Originally from Village St. Laurent, Mario had his first cooking experience at 16 years old, working as a cooks helper with his uncle Patrick Poirier, preparing meals for 65 workers at a paving company.
"After this experience, I knew I wanted to become a chef," says Mario "so I enrolled in a one year course at the Community College in Edmundston and got my certificate in cooking. As part of the course I completed a practicum at Chez Raymond and I've been working here ever since."
Mario says it will be 31 years this June since he started working at Chez Raymond and "I'm still loving it."
Chez Raymond is a family restaurant that offers various types of cuisine, including Italian, Chinese, Acadian, Canadian and seafood dishes.
Mario enjoys preparing seafood, specifically seafood chowder, although it's a seasonal dish it's in great demand during the summer months.
And his favourite dishes on the menu to prepare are Coquilles St Jacques and Chinese combo plates.
When it comes to buying local food, Mario always tries to use local ingredients especially in the summer months. "I buy oysters locally to support the local economy and also for the quality as it's always fresh and that is most important," he says.
What is the best part of being a chef?
"It is the sense of accomplishment that I get when I prepare for big events such as Mother's Day or catering for a wedding," says Mario. "I ensure that everything is running smoothly and that everyone on my team is contributing, that we are on time and have enough food.
Being a chef is a role that comes with a lot of responsibilities; you need to be organized, be able to plan and have a lot of patience to work in this fast paced field. However, it brings me a lot of satisfaction at the end of the day when everything is done and ready to serve our customers which is the number one thing that is most important – a satisfied customer!"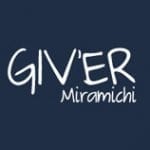 Giv'er Miramichi is about "What's up, what's new, what's happening". We are focused on building people up, supporting one another and celebrating our successes.