The 1st Annual / Mayor's 2018 Newcomers Welcome B.B.Q.
The 1st Annual / Mayor's 2018 Newcomers Welcome B.B.Q.
(Miramichi, NB) – The Miramichi Regional Multicultural Association and Miramichi Mayor Adam Lordon today announced the launch of a special new event, The 1st Annual / Mayor's 2018 Newcomers Welcome B.B.Q., intended to welcome all newcomers to the Miramichi region.
"Over the past few years Miramichi has seen hundreds of new community members arrive in our city and region. From immigrants and new Canadians in search of a better quality of life and economic opportunities, to hundreds of federal civil servants from across the country to work at the Federal Pay Centre, as well as retirees choosing Miramichi's laidback and outdoor oriented lifestyle for their retirement community, and young people returning home to raise their families. They've all come for different reasons but we want them all to know they are welcomed and valued," says Mayor Adam Lordon.
He added, "Starting life in a new community, or country, is an exciting time. Most people want to get involved in the life of their new city, but don't always know how. I've heard from many Miramichi newcomers of all stripes that they would love to be more integrated into the community. They've been looking for more opportunities to meet their Mayor and City Councillors, and connect with their neighbours, so we thought this event was the perfect way to bring everyone together. It is important all newcomers and potential newcomers know Miramichi is a welcoming, inclusive, vibrant place to live." 
The event will take place on Saturday August 18 from 1pm – 4pm at the Waterford Green and will include:
Free BBQ
Musical Entertainment and International Performances
Jumping Castles for Children,
Information Expo where newcomers can learn more about government services and community resources available to them.
The Miramichi Regional Multicultural Association has been gaining momentum in their efforts to attract new Canadians to the Miramichi region. For them, this is the latest in a series of events focused on welcoming, engaging, and integrating international arrivals into life on the river.
Members of the Miramichi Police Force will be on hand with some of their police vehicles and to help work the BBQ.
Members of City Council will be on hand to take part in the festivities and welcome newcomers as well.
All citizens are invited, in-fact lifelong residents are encouraged to join the fun as well.
The event is a collaborative community effort with representatives helping to bring it to life and they are:
For additional information media can contact:  MRMA Executive Director Craig Silliker  506-773-5272  
For more information on the Miramichi Regional Multicultural Association, please visit their website at: http://www.miramichimulticultural.com/en/ or http://www.miramichimulticultural.com/fr/  (En Français) or "view" and "like" their Facebook page – Miramichi Regional Multicultural Association at: https://www.facebook.com/Miramichi-Regional-Multicultural-Association-183596491653904/
The Miramichi Regional Multicultural Association is located at 1808 Water Street, in the Historic Chatham Business District (former Town of Chatham) and open Monday through Friday from 9:00 am to 4:00 pm. 
Find the event on Mighty Miramichi's Events Calendar at: http://mightymiramichi.com/Community/Calendar/event.aspx?i=5544
** UPDATE as of Friday, August 17th, 2018 **
SEE POSTER BELOW
The Mayor's Newcomers Welcome BBQ will now be at the Golden Hawk Gym, located at 8 Pollard Boulevard, Miramichi East (Chatham). Same date, Saturday, August 18th, 2018 from 1:00 pm to 4:00 pm.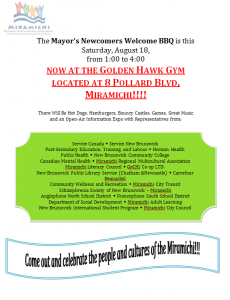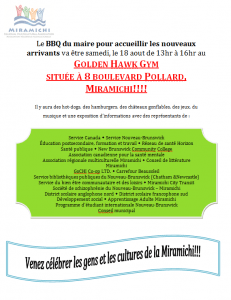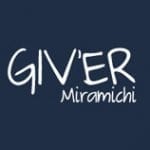 Giv'er Miramichi is about "What's up, what's new, what's happening". We are focused on building people up, supporting one another and celebrating our successes.