The Spring Issue of Giv'er Miramichi magazine is in the mail this week and is available at locations around the region, and also online at: www.giverontheriver.com/magazine/
In This Issue
See what the crafters and quilters are doing at Seamen's Hospital
Thank You! and highlights of the year from the Rotary Club of Newcastle.
Mary's Tips and Tricks for Your Hair
Miramichi Art Core – Upcoming Events and Exhibits
Tall & True: A 5-part Theatrical Production by they Beaubears Island Players. – April 26-28
Concert with Vienna Pianist, John Dupuis – May 4th
Horizon Health Harmonies for Haiti featuring musical performances by local physicians and medical staff. – May 10
Rotary Ribfest is coming soon! May 24-26
SNAP – Stop Now and Plan.  Teaching Children to Make Better Choices
Exploring Mi'kmaq Culture at Gretna Green School – The Next 150 Challenge.
Miramichi Relay for Life – Register a Team!
Small Business Starter Package – Get online for as little as $499
Events, classifieds, submitted photos, and more! 
The cover photo on the spring issue of Giv'er Miramichi magazine was taken by Jeff Pendlebury and shows boats participating in the Miramichi Stiper Cup with Ritchie Wharf in the background. The inset photo is of Susan Daigle of St. Charles, NB with the "bad boy" she caught near Strawberry Marsh, Miramichi.
The Miramichi Striper Cup starts with the Youth and Individual Divisions (May 1st – 24th) and ends with the Team Division (May 24-26). Closing ceremonies, awards and draw for boat prizes on May 26th. www.miramichistripercup.ca

Online Version
Enjoy the current issue of Giv'er Miramichi magazine online – flip through it, share it on Facebook, or email the link to friends and family living away. Past issues are also archived that you can view as pdf documents. www.giverontheriver.com/magazine
Visit www.giverontheriver.com where you'll always find good news, and positive, uplifting stories in our blog posts.
You'll also find current and past issues of Giv'er Miramichi magazine, the Mighty Miramichi River Guide, a list of locations to find our publications, and a place to submit your stories and photos.
Submit now for the Summer Issue – Deadline is May 31st, 2019
Send us your good stuff to talk about on the river! We're looking for events, stories, celebrations and pictures about what's up, what's new, and what's happening. Keep it positive and we'll promote it. Giv'er Miramichi is published and copyrighted by MCG Media in Miramichi.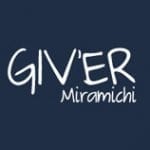 Giv'er Miramichi is about "What's up, what's new, what's happening". We are focused on building people up, supporting one another and celebrating our successes.