Words on Water – Literary Trail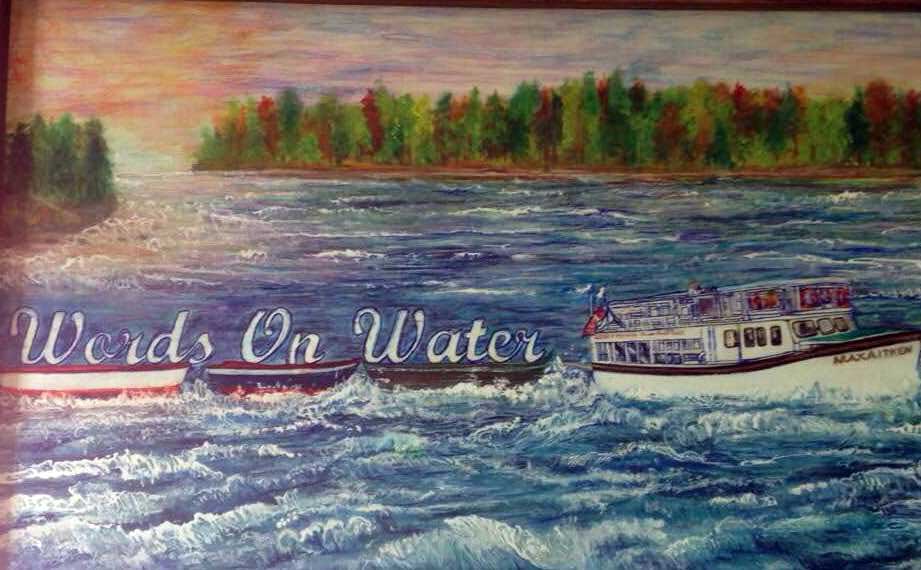 Creating the Words on Water  Miramichi  literary trail began with Sandra Bunting's  vision to honour the rich literary talent of this community for the stories and poems inspired by the unique culture, rivers and landscapes of the Miramichi. Authors David Adams Richards, Doug Underhill, Ray Fraser and Wayne Curtis are honoured with indoor and outdoor installations featuring art and engraved quotes from their work. The indoor installations feature Valerie Sherrard and Chuck Bowie.
From the moment the outdoor installations were placed at Ritchie Wharf, the Newcastle Public Library, French Fort Cove and Chatham Public Library, the sturdy wood and stone installations received a lot of positive attention. Not only is there an increased curiosity about the authors' work in the libraries, but a rising interest in the creators of the art.
Stone mason Victor Arbeau, from Upper Blackville brings twenty years of landscape and stone work to this project.  He worked fourteen years in Ontario, the last two and a half with Arthur, a man from Eastern Europe who taught Arbeau the use of hammer and chisel, gifting him two chisels before Arbeau returned home.
"Most of the stone we worked with was regular stone in various sizes for patios and retaining walls, no random patterns, all smooth and easy to build, nothing like the raw product I used here."
Arbeau hand-quarried each stone tablet from Miramichi sandstone, finished the edges and engraved the author quotes.  After constructing the sturdy wooden frames necessary to anchor the weight of the stone, he placed them, adding to each a small vignette that mirrors Gloria Savoie's indoor art. "I was proud that I was given the opportunity to work on this project. Also, it makes me believe even more how much it means to take pride in your work."
Gloria Savoie

Victor Arbeau
Gloria Savoie, Miramichi Artist in Residence, designed the indoor art based on author quotes, engraved and painted both in wood. Savoie's art reveals the passions of her life; her life in the community of Miramichi, her travels in the Middle East, Turkey, Pakistan and Iran. In Kashmir and Afghanistan she was introduced to the unsurpassed craftsmanship of wood etched art.
"Wood," says Savoie, "is the perfect vehicle to express Miramichi River History as so much of our past is related to wood industries."  The cultural wall mural The River is Who We Are, is just one of her many historical commissions  based on the history of the area.
All of the chosen writers are award-winning authors in various genres. David Adams Richards is one of Canada's most distinguished writers. He won the Governor General's Literary Award for both fiction and non-fiction, and winners of the prestigious Giller Prize and the Commonwealth Writers' Prize. He was appointed to the Senate of Canada in 2017.
Raymond Fraser is the author of thirteen books of fiction, three of non-fiction, and seven collections of poetry. His novel The Bannonbridge Musicians was runner-up for the Governor General's Award in 1978. In 2009 he received the Lieutenant-Governor's Award for High Achievement in English-language Literary Arts. Five of his books are listed in Atlantic Canada's 100 Greatest Books (Nimbus). In 2012 he was appointed to the Order of New Brunswick for his contributions to literature and culture in the province. In 2016 he received an honorary D.Litt degree from his alma mater, St Thomas University. His latest book is Through Sunlight and Shadows (2018), a novel.
Wayne Curtis is a winner of the Richards Award for short fiction, The Woodcock Award, the CBC Drama Award and had received grants from The New Brunswick Arts Board, The Yukon Arts Board and the Canada Council of The Arts. Wayne has written eighteen books and a produced screenplay. He is a charter member of the Writers Federation of New Brunswick and served as a director of that group for ten years. In the spring of 2005 he received an Honorary Degree of Letters from St. Thomas University, in 2014 The Order of New Brunswick and in 2018 a Canadian Senate Sequi-centennial Medal.
Doug Underhill graduated from Harkins High School before attending St. Thomas University in Fredericton, NB, where he obtained his B.A. (Honours in Literature) in 1968 and B.Ed. in 1969. River Poems is his 11th book and his third collection of poems. His 10 previous books include three children's books, two books of poetry, a humorous Miramichi Dictionary, and two local folklore books. He has also written several non-fiction sporting books. A founding member of the Writers' Federation of New Brunswick, he served as one of its directors for many years.
Going forward, Words on Water hopes to create a map, brochure and possibly a website on the trail, the wonderful writers and their connection to Miramichi.
Words on Water Miramichi was founded in 2005 by Judy Bowman and Michelle Cadogan and was incorporated in 2017. Recent activities of the group include the launch of Sandra Bunting's short stories, several Breach House Gang anthologies and Tom Creaghan's Miramichiers in the Gilded Age. Words on Water hosts readings at the Burnt Church Midsummer Arts Festival annually, has performed a special Remembrance Day event and hosted Bloomsday readings of James Joyce's Ulysses. It has also given regular writing workshops and participated this year in the first Miramichi Theatre Festival.
Words on Water includes: Judy Bowman, Sandra Bunting, Kellie Underhill, and many volunteers and participants.
Discover the Literary Trail at these locations:
David Adams Richards – Ritchie Wharf
Doug Underhill – Newcastle Public Library
Wayne Curtis- French Fort Cove
Ray Fraser – Chatham Public Library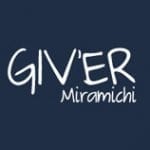 Giv'er Miramichi is about "What's up, what's new, what's happening". We are focused on building people up, supporting one another and celebrating our successes.