Miramichi Youth House's Annual 12 Homeless Hours
Save the date for Saturday, October 5th, 2019 from 6pm to 6am on Sunday, October 6th, 2019 at the Ritchie Wharf in Newcastle!!
It's that time of your again!! Miramichi Youth House Inc. hosts the 12 Homeless Hours each year to keep the awareness alive that homelessness exists in the Miramichi and surrounding areas!
All the proceeds raised at the 12 homeless hours will go towards our day to day operations at the Miramichi Youth House Inc.
Their goal is to raise $5,000.00 in monetary donations and to raise awareness of the issues concerning Homeless Youth within New Brunswick and our community.
If you feel you can't brave the cold, come and check out the unique shelter our teams will come up with this year.
It's a great family friendly event where we build shelters and spend the night in the cold October night just like a homeless person would.
There will be live entertainment, variety of activities, barbecue, and prizes for teams for the following: Highest Pledge, Most Valuable Competitor, Most Dedicated, Team Spirit and Most Creative Shelter!
What to bring and it is anything a homeless person would have access to: cardboard boxes, tarps, sheets, pillows, blankets, sleeping bag, ground sheets, flashlight, snacks, lawn chair and duct tape.
If you would like to register a team please call the Miramichi Youth House at (506) 624-9909 and pick up your packages!
Packages include: pledge sheets, information and a flyer!
Be sure to "view" and "like" the Miramichi Youth House Facebook page at: https://www.facebook.com/Miramichi-Youth-House-106498371519/
To view photos from a Previous year's Homeless Hours visit: https://www.giverontheriver.com/2015/09/12-homeless-hours-raises-awareness/ and http://mightymiramichi.com/Community/Gallery/Display.aspx?aid=281&pid=7684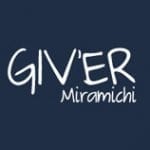 Giv'er Miramichi is about "What's up, what's new, what's happening". We are focused on building people up, supporting one another and celebrating our successes.