Rogersville Open Air Outdoor Market
From 11 am to 4 pm on Saturday, October 17th, come out for a drive to the Village of Rogersville's Parc Mille Pas located on Rue Principale Street for the Rogersville Open Air Outdoor Market.
There will be something for everyone and vendors are needed and welcomed!
You must book by Friday, October 9th, by contacting the Village of Rogersville by telephone at 1-506-775-2080 or by email at . It's just $20. a person / table.
Be sure to "view" and "like" the Village de Rogersville on Facebook and "visit" on the web.
Vendors so far include:
1 – Alida Lapage, Macramè, art de verre de plage, etc.
2 – Diane Doiron, Mitaines, sacs de maquillage, etc.
3 – Pauline Caissie, Scentsy
4 – Isabelle Duclos, Savons faits maison
5 – Lisa Babineau, Épicure
6 – Adeline Mazerolle, Couvetures, Bas, Mitaines etc.
7 – Madaine Michaud, Produits pour la peau
8 – Joanne Maillet, Lavettes au mèteir
9 – Nadine Fournier, Tricot
10 – Joseè Savoie, Macramè
11 – Pauline Pitrie, articles avec citations
12 – La Coopèrative Ferme Terre Partageè, Legumes, Oeufs et Viandes
13 – Julie Pitrie-Richard, Bijoux de peries
14 – Paulette Robichaud, Produits au mèteir
15 – Betty Dennis, Bath Bombs et produits de bains
16 – Micheline Richard, Mitaines
17 – Danika LeBlanc, Lavettes et Bracelets
18 – Eva Arseneault, Toll Painting
19 – Dominique Caissie, crafts
20 – Everett Maillet, Livres
21 – La Fleur d'Esperance – Pantoufles
22 -Linda Gallant, Cartes pour touts occasions
23 – Hélène LeBlanc – Crafts d'Halloween et Noël 
24 – Emma Doiron et Malika Cyr – Crafts
25 – Noella Arseneault – Masques
26 – Denise Goguen – Mitalines et Crafts
27 – Liette Doiron – Crafts
28 – Comité de Mesures d'urgance local – Kits de Mesures d'urgance
All funds raised with table fees will go to the Rogersville Sports Club.
Important updates for the outdoor fall market!
Since we realize these times can be difficult for many people due to COVID-19 restrictions isolation, the municipality wants to move forward with our fall market this Saturday October 17 from 11 am to 4 pm, but with the following IMPORTANT rules:
– In the event of rain, the market will take place on Sunday, October 18 at the same time (decision will be made and announced Friday in the course of the day).
– Wearing mask is MANDATORY for all vendors and also shopers beyond the age of 2
– There will be hand sanitizer at each table (provided by the municipality), so participants must wash their hands after each transaction.
– Social distancing (2 metres) should be monitored wherever possible.
– The market will be one way. You can start your journey at VIA train station and walk in the trail to get back either on the shoulder (shouler) of the way or on the sidewalk the other side of the road.
– We ask you to follow all the restrictions recommended by Public Health in the province regarding the different areas (oranges and yellow).
– We may have to cancel this activity by the weekend, depending on developments in the province this week, so you can come visit our Facebook page for updates.
We want to support our local craftsmen and craftsmen and enjoyed the beautiful fall weather, but we need everyone to do their part so we can continue to offer activities for the community in the coming months.
If you have questions about this activity, you can contact the municipality at 1-506-775-2080 and if you have questions about COVID-19 restrictions, you can contact 1-844-462-8387.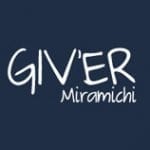 Giv'er Miramichi is about "What's up, what's new, what's happening". We are focused on building people up, supporting one another and celebrating our successes.