Walking Tour of Historic Nelson
The Friends of Beaubears Island and their community partners will raise awareness of the history in the former village of Nelson-Miramichi, when they stage a Walking Tour of Historic Nelson on December 12 from noon until 3pm. The tour will begin at the Beaubears Island Interpretive Centre (35 Saint Patrick's Drive) and incorporate Saint Patrick's Drive, sections of Sutton Road, and Rodney Green Street. Local guides will lead the outdoor tour for individually bubbled groups, to ensure a safe, social distanced event.
The experience will feature commentary on several historic sites in the Nelson area, including Saint Patrick's Church (pictured here), the Nelson Post Office, Nelson Rural School, Governor's Mansion, the Nelson Senior Citizens Centre, and a good deal more.
In 1814 the Parish of Nelson was created when Northumberland County was further divided to include six parishes instead of two. With that in mind, the tour is sure to be filled with a myriad of character profiles and episodes from the past 200 years, from the pioneering cleric Fr. Michael Eagan, shipbuilders Joseph Russell & John Harley, industrialists George Burchill & John O'Brien, the ladies of Brown's Woolen Mill, labour advocate John H. Wallace, educators Josephine Sullivan & Hannah Stewart, the St. Patrick's Boy Scout Troop, and the Nelson Softball Association.
It is doubly pleasing then that, with a community history so varied, this tour has the support of a number of local businesses and institutions, each of which has added its own character to the presentation. The Friends of Beaubears Island extend their thanks to them for their partnership and support, and hope that this combined venture may only be the most recent of many more to come.
Photo: Students outside of Nelson School House, one of the historic sites along the tour.
Be sure to visit and "view" and "like" Île Beaubears Island Interpretive Centre on the web and on Facebook and find this event on Facebook for more information or call the Île Beaubears Island Interpretive Centre at 1-506-622-8526.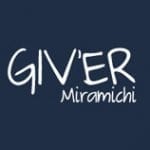 Giv'er Miramichi is about "What's up, what's new, what's happening". We are focused on building people up, supporting one another and celebrating our successes.