FREE Meal Program for Seniors
The Greater Blackville Resource Center is starting a Seniors Meal program for the community of Blackville and surrounding areas (including Rapids, Renous, Pineville/Lockstead/Bartholomew, Barnettville, Keenans/Howards and Upper Blackville).
Similar to SOUPS ON!, the new SOUPS ON REVAMPED program, offered by the GBRC, consists of a FREE hot meal 3 times a week for the next 12 weeks, beginning Monday, January 11th, 2021.
This program is open to all seniors, 65 years and older.
The meals will be available on Monday, Wednesday and Fridays.
Pick-Up at the Voice of Hope Facility at 12073 Route 8 in Upper Blackville or delivery is available upon request. Call Joy at 843-9024 to register.
This article was first featured on the Village of Blackville's website at: https://villageofblackville.com/free-meal-program-for-seniors-pickup-or-delivery/
What is Greater Blackville Resource Centre?
Greater Blackville Resource Centre is a 100% volunteer operated registered charity with a clear vision – to assist persons in need and promote unity in the community.
They do this through various projects, but the majority of their efforts goes into the operation of the Food Bank in Blackville. The Food Bank does not receive regular financial support from any level of government and all revenue comes from our thrift store, fundraising activities, and generosity of the local community.
Find them on Facebook and visit their website at: https://blackvilleresource.com/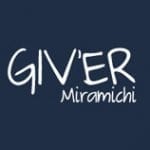 Giv'er Miramichi is about "What's up, what's new, what's happening". We are focused on building people up, supporting one another and celebrating our successes.