By the way . . . Happy New Brunswick Day!
If you want peace of mind,

Leave your worries far behind,

Won't you come back with me,

To that land down by the sea,

Where the tall timbers grow,

In the valleys green below,

Reaching up to the hills

Of New Brunswick.
With the sweet breath of springtime,

The smell of new mown hay,

Leaves that turn to red and gold,

And snow on Christmas Day,

There is no kindness to spare,

You'll be welcome to share,

Of the love and the land

Of New Brunswick.
— The Land of New Brunswick

by Donald A. McLeod
Here's the link for the official New Brunswick Day website
Find out about all the symbols for the province here.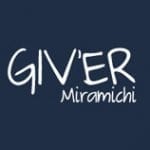 Giv'er Miramichi is about "What's up, what's new, what's happening". We are focused on building people up, supporting one another and celebrating our successes.