Every month there are stories I want to include in Bread 'n Molasses that don't make the deadline. At the beginning of the month, the plan starts out pretty simple with a few story ideas on a list, but as the month progresses the list grows and I run out of time before everything gets done.
Whenever I can, I keep the articles to include in the next issue. But sometimes that's not possible because next month is too late. So, one great thing about keeping a blog is that those stories won't slip through the cracks anymore. I can tell you all about them here.
One story I planned to write for the August issue was about a young guy named James Hicks.
A couple of weeks ago James emailed us with a sponsorship request. He had been picked for the NB Selects baseball team and needed money in order to be able to go to Windsor and compete for the National Championship.
James will enter the eleventh grade at James M. Hill high school in the fall and has been playing ball since he was seven years old. At a recent game in Moncton, the University of Maine Head Coach approached him about playing ball for them after he graduates high school.
I thought, "What a great story! And maybe it will drum up some sponsors for him when people read about it."
I called his house a few days later and spoke to his mother. She told me James already had all the funding he needed but he would like the opportunity to thank those sponsors in Bread 'n Molasses.
Apparently as soon as his hockey team heard he needed funding they got together and helped him find sponsors. I wasn't surprised — that's one of the great things about being a Miramichier — we're really good at banding together to help one another out.
I called back the next day to speak with James and learned that he wasn't the only local guy chosen for the NB Selects. Jeremy Leggett, Adam Aubie and Craig Russell are also on the provincial team.
In order to do a balanced story I knew I had to track down all these guys for an interview and I only had a couple of days left before Bread 'n Molasses was due to hit the web.
Needless to say, time ran out, the story didn't happen and by next issue the tournament will be history.
That's how good stories slip through the cracks. But those days are behind us now, nothing falls through the cracks anymore, it will all find a home in our blog.
James sent me another email after we spoke on the telephone. Here's what he had to say:
I want to thank my Sponsors:
R & B Walsh Transport
Andrew's Fish & Chips
Discount Taxi
Hebert's Bottle Exchange
Billy Flieger
I would like to thank some people that helped me to get my sponsors.
These people are:
Brian MacDonald & Family (Hockey Coach)
Barry Jeans & Family (Hockey coach)
George Martin
Roy & Peggy Walsh
And my Hockey team The Miramichi Panthers
(These people are great and are always there for me. They have helped me throughout the years, both on and off the ice.)
Also my Ironmen Midget Coach, Mark Noel and manager, Ken MacDonald and Midget team mates for sharing their knowledge of the sport, advice and transportation with me over our years together.
Thanks again, Kellie for your interest.
You're very welcome, James.
And I think I speak for everyone when I say, Good luck to the NB Selects team at the National Championship in Windsor, Ontario, from August 13th-18th!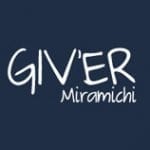 Giv'er Miramichi is about "What's up, what's new, what's happening". We are focused on building people up, supporting one another and celebrating our successes.