Yay! Another issue of Bread 'n Molasses has just gone live on the web! Well, actually it was mostly all there since yesterday, but I just sent the email to our subscriber list letting people know it's ready. I'm kinda sneaky that way. J
Yesterday was the official opening of the Miramichi Walking Challenge. Stacy and I went to the Opening Ceremony at French Fort Cove yesterday morning. About 50 people showed up and at least one dog.
There were representatives from the MANGO group and various levels of government including Mayor Rupert Bernard who is an active walker, John Foran who has signed on to take the challenge, and Michael "Tanker" Malley who not only says he's up for this challenge but he's reissuing the challenge to TJ Burke, the MLA from Fredericton North.
You may recall Mr. Burke made some derogatory comments last month about Miramichiers.
And I'm with Tanker on this one — Let's all get off our butts and make the Miramichi the fittest place in the province!
In fact, we did. Last night, Stacy and I took our first walk around the French Fort Cove. I've included all of our pictures from the day down below.
Up hills and down hills, through the woods, around the boardwalk — it was tougher than I had imagined and more exhilarating. We're going again tonight after work.
Maybe we'll see you there?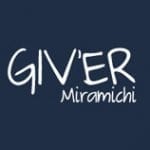 Giv'er Miramichi is about "What's up, what's new, what's happening". We are focused on building people up, supporting one another and celebrating our successes.