Happy Labour Day!
I'm working hard to get the next issue of Bread 'n Molasses up, but I'm sure you're having an awesome day off. If you're interested, here's an article about the Origins of Labour Day.
Have you heard about the Miramichi Walking Challenge?
All the details will be available in the September issue of Bread 'n Molasses.
The challenge is to walk at least 30 minutes most days for a period of eight weeks. You can pick up forms at local businesses to keep track of your activity. At the end of the challenge you pass in your form and they'll draw for prizes. There seem to be a lot of great prizes to be won including gym memberships and such.
Anyway, the thing is, we've decided to do it. Stacy and I have been saying for months that we want to get out and be more active, but we work so much there just never seems to be time. So, this challenge is the perfect way to get us away from the office and out in the fresh air.
We picked up our forms this morning at the Irving. 10am tomorrow is the official opening of the challenge at French Fort Cove. If you can't make it, that's okay, participants can join the challenge at anytime during the eight weeks.
Wish us luck! I'll make sure to keep you up to speed with our progress.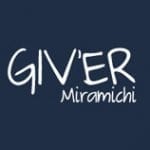 Giv'er Miramichi is about "What's up, what's new, what's happening". We are focused on building people up, supporting one another and celebrating our successes.