Good morning everyone!
Well it's Monday morning, and despite the fact that the day started off as a typical Monday (spilled coffee on my shirt, bad hair day etc.), I'm having a great day!
Mel and I went to our new apartment yesterday to figure out what we need, where we will be putting our furniture etc. I'm so excited!! I've lived in the same apartment (by myself) for the past 4 years, and I'm ready for a change. I've been making alot of changes in my life lately, and it feels great! I think that living with Mel and Reid will be fun. I'm looking forward to having people to play board games with. I'm not sure if they are aware of this yet, but I'm going to try to get them hooked on Scrabble 🙂 My only concern about living with other people is that they will want to throw me out of the house when they hear me practice fiddle (it's brutal!!).
I had a great weekend, fairly relaxing. On Saturday night my friend and I went to see Tanya Woods play at Mike's Bar. Tanya is such a great singer, I love going to see her play. I am a little embarrassed though, for some reason I felt the need to get up and sing in front of the crowd. I am definately not a singer! I TRIED to sing "Wish You Were Here" by Pink Floyd, but forgot most of the words. It was quite embarrassing.
Well, I should get back to work. Just thought I would take a few moments out to blog about my weekend.
Have a great week!!
TTFN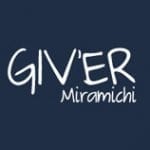 Giv'er Miramichi is about "What's up, what's new, what's happening". We are focused on building people up, supporting one another and celebrating our successes.