Today is Friday which means it is my "admin" day at Mighty Miramichi. Which basically means organizing all the past weeks events and planning the next week ahead. On this day I review all current projects in progress, making sure everything is on schedule.
I update the database and accounting software with new customers accounts, payments, etc, and make additions to the "Business Catch of the Day" listing. This is broadcast daily on 993 The River and Life 107.5 and promoted on the Mighty Miramichi homepage.
Wow, do I ever sound organized! I'm actually quite lucky if I get my admin finished on Friday amidst the ringing phone, dinging email, website updates, salespeople who need support, organizing projects, staff meeting and whatever design or graphics work I am currently doing.
Every Friday we have a staff meeting where we watch a video on personal development. Personal development is being aware of your behaviours, attitudes and feelings and working on them. Basically any activity or thought process you consciously engage in to improve your skills & knowledge and bring out your full potential.
Last week we did a goal setting session which we found very useful. Melanie had actually prepared a blog on it but hit cancel by mistake and lost everything. Maybe she'll try again. This week I believe the topic will be time management….speaking of time….gotta run!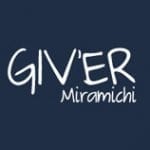 Giv'er Miramichi is about "What's up, what's new, what's happening". We are focused on building people up, supporting one another and celebrating our successes.