It's been a couple of weeks since my last blog and quite a bit has happened since then. Mel and I moved into our new apartment – finally!! I was really anxious to move in. I have lived by myself for the last couple of years and I found it very lonely. I love having people around me all the time. I'm not happy unless I'm talking, anyone who knows me would probably agree with this statement. Another drawback to living alone was that I found myself dining out far too often. I love cooking when I have other people to cook for. I have the feeling that Mel is going to enjoy this as well.
Mel and I started the gym this week!! We're really motivated. We get up each morning at 6 am to be at the gym for 6:30. This is really early but I find that you feel so much better all day and it is nice to get it out of the way. We have also been eating well all week. Okay, I'm exagerrating a little bit, most of the week. Today I kind of binged at lunch and ate WAAAYYY too many cookies. The funny thing is, I'm not normally a big fan of cookies. Oh well, back on track. I try not to let these minor obstacles on the road to weightloss get to me. As I said to Melanie, it could have been worse, I could have eaten those cookies and not worked out today. It will all work out in the end.

The big challenge is going to be tommorrow night. Reid, Melanie, Jeff and I are having a Halloween party and I imagine there will be lots of junk food, not to mention beverages. I'm going to try to remain focused and not over-indulge. I'm really excited about the party. A few of my friends who I haven't seen in awhile will be coming and I think my friend Denise will be coming home from Moncton for it. I'm dressing up as a ladybug. It's a really cute costume. Last weekend I went to a Halloween party dressed as a butterfly. I thought that it was really cute, but not one person identified me as a butterfly. I was mistaken for a fairy, I suppose that I can see how this could happen.
Well, it's about that time. I should get home now and cook a nice healthy meal for Mel and I. I'll write next week to let you know how our party went. TTFN.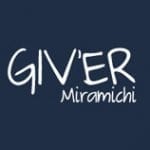 Giv'er Miramichi is about "What's up, what's new, what's happening". We are focused on building people up, supporting one another and celebrating our successes.