You know when it's been a week and nobody at Mighty Miramichi has taken time to blog, things are crazy busy. And boy! Are things crazy busy? Or is it just me? It seems like we've got so much going on none of us can even slow down to tell you all about it.
As for me, I finally finished the November issue of Bread 'n Molasses and got it online for the world to see. And I do mean the world. In the few days since the issue went live I've received email from readers as close as Saint John but as far away as British Columbia, Florida and even Brazil!
We just continue to pick up new readers every month and our visits increased again for the month of October. Remember, visits measure the people who actually drop into the site and spend some time browsing. We finished at a whopping 5605 visits! Wow! That's pretty cool!
November Bread 'n Molasses is an exciting issue for me. First, there's the story I wrote about Gerry Goguen and his Phantom Street Rods. If you haven't read it yet, stroll on over there and do so right now. Even if you have zero interest or knowledge about cars this is a pretty exciting story for the river. Gerry has done what everyone said was impossible, invented something brand new that there is no doubt the rest of the world will want to buy, and he's going to stay right here and hire local people to help him make as many of these things as he can possibly sell. Now, that's exciting stuff!
Of course, street rod enthusiasts didn't even need to hear that whole spiel in order to get excited — Hello! Can you say retractable hard top?
I interviewed Gerry and I've spoken to him a couple of times since, he actually dropped by the office today so we could see the car up close and personal. Because he loves what he's doing and he believes so completely that this product is going to be huge, he's so upbeat and positive and enthusiastic that it's contagious. You literally can't be in his presence and not feel just as enthusiastic as he does and believe wholeheartedly that he'll be very successful with it.
If we could all be only half as passionate, committed and focused on something, employment on the river would cease to be a topic of discussion.
Another exciting item from the November issue is our first story published entirely in French. Sans espoir, sans vie is a work of fiction written by Sean Dent, a native of Ireland who lives in Montreal. I like this story because it's sort of sad and melancholy, like I tend to feel in November, which you'd know if you read my Editor's Note.
Speaking of my Editor's Note, I'm so glad I wrote about Flo! I think having verbalized and written down and actually published how much she taught and influenced me, I feel better, sort of like I found her and got to tell her. So, now if I never find her, I don't think I'll carry any regret that I never thanked her. I highly recommend that you take a few minutes to write about anyone you always wanted to thank but never did, it's very cathartic.
And finally, one of the most exciting things about the November issue is all our contributors! So many new names mixed in amongst the ones we already know and love! It's fabulous! I can't wait to see who shows up in next month's issue. Rest assured I'm already hard at work on it.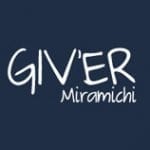 Giv'er Miramichi is about "What's up, what's new, what's happening". We are focused on building people up, supporting one another and celebrating our successes.