Stacy and I just got back from a fantastic supper at the Portage. I love their fried chicken dinner with rice. Yummy! This evening we both tried the Turtle Cheesecake and it was quite delightful. I totally ate too much and now I'm all sleepy and lazy, don't know how I'll get anymore work done.
And there's so much work to be done!! I mentioned yesterday that things are pretty crazy around here. Well, one reason why we're so busy is that Mighty Miramichi's parent company, INM Group, just rolled out to all of Atlantic Canada. Check out the Mighty Community Site and leave a comment to let us know what you think!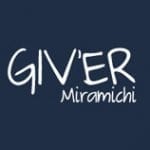 Giv'er Miramichi is about "What's up, what's new, what's happening". We are focused on building people up, supporting one another and celebrating our successes.