So, nobody has volunteered yet to write the next chapter in the continuing saga of romance and mystery at the Laughing Bear Lodge that is our novel collaboration.
With so many great storytellers on the river (let's not name names but everyone just point) you wouldn't think we'd have this problem of finding people to write.
I guess I'm not the only one who's really busy. And we are in that insane season called "The Holidays." I've always thought of holiday as an oxymoron.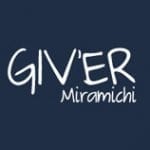 Giv'er Miramichi is about "What's up, what's new, what's happening". We are focused on building people up, supporting one another and celebrating our successes.