Happy Holidays!
With Christmas, the New Year and a lot of new things happening with Bread 'n Molasses it's been difficult to get in here and jot things down. So, I thought I'd better pop by and let everyone know that all is well on the Mighty Miramichi! We're definitely having a white Christmas! I'm really excited about the hoiday this year. My nieces and nephew are old enough now to get really excited about presents, Santa Clause, all the wonderful old Christmas movies on tv, singing carols, having turkey dinner and all the rest of it.
One of my brother-in-law's has to work all through the festivities, Christmas Eve and Day, so my sister decided rather than have him miss all the fun stuff with the family they would move Christmas. Last night the children hung their stockings with care and this morning they woke to find good ole St. Nick had been there. When she first told me about this plan, I admit I was kind of sceptical. Christmas has always been such a magical event in my family, I didn't know if we'd be able to pull off the magic a little bit early for her family and then sustain it for the rest of the family who will celebrate on the 24th and 25th like normal. So, last night the kids went to Grammie's like they do every Christmas Eve and got their gifts from Grammie & Grand-dad and Aunt Kellie. Oh we had a great time! They were so excited to see the Princess Barbie with horse and carriage, Hot Wheels racetrack and Dora the Explorer paraphenelia! We listened to Christmas carols and hung our stockings. The adults played a few rounds of Trivial Pursuit and figured out how to work all the cameras and video equipment. It was just like any other Christmas Eve — no less magic for coming two days early.
Actually, having a Christmas Eve with family last night and still looking forward to more family Christmas time tomorrow night and the following day has really put me into the spirit. Today, I'm full of good cheer, all smiles, practically whistling while I work. It's made me think maybe we should do this every year? Well, not celebrate Christmas on a different day, but just slow down and not get so crazy about making THE perfect day. Take the time to thoroughly enjoy our time together and celebrate just a little bit longer than that one perfect day.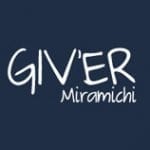 Giv'er Miramichi is about "What's up, what's new, what's happening". We are focused on building people up, supporting one another and celebrating our successes.