So, how was your Christmas or whatever holiday you celebrate? Mine was great!
Now, I'm really looking forward to bringing in 2004. Every New Year I get all excited at the possibilities. I love fresh starts, clean slates, a blank page — I guess that's the writer in me.
I'm curious. Are any of you setting resolutions for the New Year? Or do you not do that? I'll tell you mine, if you'll tell me yours.
Happy New Year!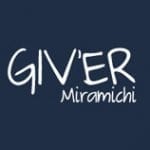 Giv'er Miramichi is about "What's up, what's new, what's happening". We are focused on building people up, supporting one another and celebrating our successes.