Lottsa Snow!
We had a lovely snowstorm on Monday, and I ended up being snowed in and working from home. I made the best of it even though I was on dial-up in the middle of a storm and using a computer that is slightly past its prime. I can log-in from home to check my work related emails so the lines of communication stayed open. I was able to spend some time doing research and reading about website design, search engine optimization, marketing and tourism, which I really enjoy.
I did "take the time to enjoy the day", as Terry often says, and went snowshoeing with my mother through the woods surrounding their home and down to the Mighty Miramichi river.
Here I am surrounded by snow covered trees. It was absolutely beautiful in the woods! I'll try and post a few more snowy pictures when I get a chance.
Stacy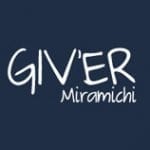 Giv'er Miramichi is about "What's up, what's new, what's happening". We are focused on building people up, supporting one another and celebrating our successes.