Women Entrepreneurs
Yesterday I attended a presentation hosted by the Greater Miramichi Chamber of Commerce on the new Women in Business Initiative (WBI) of the Atlantic Canada Opportunities Agency (ACOA).
The WBI was designed to provide women entrepreneurs with the tools to overcome the challenges of business planning, financing, training, marketing, and networking, to name a few. The WBI is working to enhance and expand the programs and services available to women in business to provide them with access to the right business information, training & counselling – when they need it and where they need it.
The session on Tuesday was attended by at least 65-75 interested individuals and I think the organizers were pleasantly surprised by the turnout. You can read about the initiative online but the highlights include a Business Management Training Allowance that pays up to 75% of fees for training, seminars, conferences, etc. They also seem to be taking a grass roots approach by holding community meetings and finding out what the women business owners really need. More community events will be planned and assistance is available to women interested in developing networking groups in the region. I have contact information for the Northeast Region (Campbellton to Miramichi) Development Officer if anyone is interested.
The Village of Thirty Centuries – Metepenagiag First Nation
Yesterday evening I also attended our monthly MRVT meeting (Miramichi River Valley Tourism), where Pam Ward delivered a presentation on the proposed Metepenagiag Heritage Park. We were all very impressed both by the extent of the project and her obvious dedication and passion. She really demonstrated the historical significance of this project and the importance of preserving and presenting this part of Mi'kmaq history for the Miramichi, the province, and for Canada.
Over 10,000 artifacts have been found in the ancient village (New Brunswicks oldest) and some have been carbon dated to be 3000 years old! How incredible is that?! Kellie plans to do an article about it in Bread 'n Molasses and I can't wait to find out more.
Oops, it's getting quite late.

Ta Ta for now.

Stacy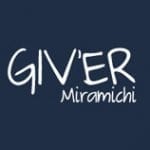 Giv'er Miramichi is about "What's up, what's new, what's happening". We are focused on building people up, supporting one another and celebrating our successes.