Catch of the Day
Melanie & I had a great day today! We went to 993 TheRiver and recorded the Mighty Miramichi Business Catch of the Day for the month of March.
Usually the guys at the radio station record these ads but we decided to give it a try ourselves and have some fun. Under the guidance of "The Brad" we selected the background music, prepared the script, and made the recordings. We ooohh'd & aaahh'd over his cool computer program for editing the recordings and putting it all together, and secretly admired his great hair.
Even though we started out all nervous and excited I think we did okay! Thank you Brad & 993TheRiver for teaching us something new….and Wally thought we knew everything!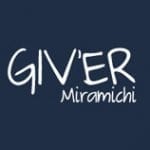 Giv'er Miramichi is about "What's up, what's new, what's happening". We are focused on building people up, supporting one another and celebrating our successes.