Last night I visited the Deux Maples Art Gallery. The owner of the gallery, Esther Nye, had invited me to a special exhibit of work by local artist, Colleen Knowles. It was my first time visiting the gallery since it opened, but I can say with all confidence that it certainly won't be the last.
What an amazing night!!
Many people are quick to say an appreciation for the arts doesn't exist on the river, but events like this prove them wrong. A full house of over 70 people gathered to soak in the creations, mingle and discuss art.
I was particularly drawn to the featured artist's work, although there were others on display as well. I recognised some paintings as the work of artists I had written profiles about in Bread 'n Molasses and noted the names of others that I would like to profile later.
It's difficult for me to describe Colleen Knowles' art. It's diverse and sometimes abstract. I think her work would appeal to a broad base of people because there's a little something for everyone.
My sister, who attended the event with me, particularly enjoyed the textured works using shards of stained glass and smooth stones like buttons. As a writer, I was of course drawn to the words. Definitions snipped from a dictionary framed the collage type creation I enjoyed most.
For those who appreciate art a bit more concrete, one wintery blue scene reminded me of a festive Christmas card, while another painting of a street front brought Norman Rockwell to mind.
There is one thing beyond dispute, the body of work I saw last night was phenomenal. My emotions ran the gamut from warmth and passion to longing and wistful. Like all good art should I was at times inspired, at times contemplative and always spurred into thought.
With any luck, you'll be able to read a profile of Colleen Knowles and see some of her work for yourself in an upcoming issue of Bread 'n Molasses.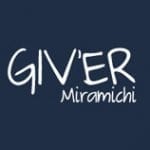 Giv'er Miramichi is about "What's up, what's new, what's happening". We are focused on building people up, supporting one another and celebrating our successes.