I was just updating our Currently Reading list and noticed the book I'm reading, Crow Lake, is a selection from the Today Show Book Club. That's a coincidence that's been happening an awful lot, it seems.
I don't watch the Today Show, don't follow any of those TV show book clubs, but I do predominantly read Canadian Literature . . . So, if these are the books being chosen for American Book Clubs, I think that says something positive about Canadian literature.
I grew up here in Canada, reading everything I could get my hands on, aspiring to write books from the tender age of 10. And yet, it wasn't until university that I realised Canadian Authors existed! And it wasn't until I discovered the great Canadian authors like Margaret Laurence, Alice Munro and Mordecai Richler that I completely understood I wouldn't have to move to New York City, I wouldn't have to set my books in Paris — Canadian stories existed!!
High school wasn't that long ago, (we've had our 10 year reunion but we're still a few years shy of the 20th) but things definitely seem to have improved. Canadian authors are headlining televised American book clubs, winning huge International awards, having their books turned into Academy Award winning films, and becoming household names. This is good.
Some of my academic writerly type friends (you know who you are) look down their noses at book clubs like Oprah and the Today Show, but anything that encourages people to read is a good thing in my mind. Sure, it irritates me to no end that Steinbeck is suddenly cool because Oprah says he is . . . I mean, he's STEINBECK!! He's ALWAYS been cool!! But whatever the means of getting there . . . the main thing is people are reading, discovering past greatness, new talent, and as it turns out — Canadian Literature.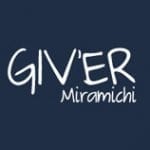 Giv'er Miramichi is about "What's up, what's new, what's happening". We are focused on building people up, supporting one another and celebrating our successes.