A new issue of Bread 'n Molasses hit the net today with lots of interesting news and helpful tidbits. I've been trying to keep the issues small and manageable but it's nearly impossible with all the great stuff people send me. We've come a long way in the past year. In the beginning I had to write almost everything myself, beg people for their stories, plead with people for interviews . . . now, new submissions arrive every day. It's wonderful to be a part of something like this, to watch it go from idea to inception to success. Anyway, check out the new issue and keep sending us your good news and stories.
I'm looking forward to this weekend when the Writers' Federation comes to town for their Annual General Meeting. It looks like I'll be holding down the Mighty Miramichi fort as everyone else is heading out to Moncton for the Kiwanis Lifestyle Show. Sure going to miss not being a part of that — Giv'er! I'm sure you guys will make a lasting impression. . . on the other hand, I am a writer and I'd be lying if I said I'd rather be at the tradeshow than hanging out with all kinds of other writers and literary types.
The latest news coming out on the AGM is that Matilda Murdoch, who was a big hit at the Alden Nowlan Festival, will be joining us after the awards banquet for an old-fashioned kitchen party. A native Miramichier from Loggieville, Matilda received her first fiddle when she was eight-years-old and embarked on a successful performing career. She now writes her own tunes and is an icon in fiddle circles throughout North America. Her numerous awards include the Stompin' Tom Award at the 2002 East Coast Music Awards. She has recorded two original albums that have inspired thousands of other musicians as well as her fans. I've heard plenty about her but never had the opportunity to see her perform, so I'm really looking forward to this particular treat.
So, if you're going to be in Moncton this weekend make sure to drop by the Coliseum and say hello to the gang from Miramichi. And if you're going to be on the river this weekend, why not pop by the Rodd and hang out with me and some very creative New Brunswick talents.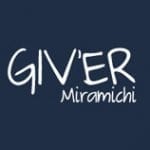 Giv'er Miramichi is about "What's up, what's new, what's happening". We are focused on building people up, supporting one another and celebrating our successes.