CyberSticks 'n Stones: Words Really Can Hurt!

The District Education Council of School District 16 Invites Parents and Community Members To:
CyberSticks 'n Stones: Words Really Can Hurt! Monday, October 3th, 2005

School District 16 is recognized as a leader in promoting the use of technology for the education of students. As part of its mandate to use technology in a way that both supports and enhances the curriculum, it has also put in place many safeguards to ensure the online safety of our students.
It is with the objective of providing a safe and positive learning environment for our children, that you are invit­ed to learn what you can do at home to protect your child from Cyberbullying – a form of online bullying that takes place through computers.
Please Join_
Dr. Parry Aftab
From 7:00pm to 9:00pm
"Live" At The James M. Hill Memorial High School Theatre
Or "Via Video Conference" at
Bonar Law Memorial High School,
Blackville School or North & South Esk Rural
Monday, October 3th, 2005
(Refreshments will be served compliments of the District 16 District Education Council)
Dr. Aftab is an Internet lawyer and child advocate who heads www.Wiredsafety.org, which has been educating people about Cyberbullying since 1995. She is presently working closely with Miramichi's Child Safety Research and Innovation Center (CSRIC) and District 16 to help raise community awareness about what can be done to combat Cyberbullying.
Dr. Aftab will be addressing the following issues: How do we protect our children from online bullying, identity theft and harmful websites? How do we teach our children to use the Internet responsibly? What role do cell phones and interactive gaming devices play in Cyberbullying? What can our community do to stop Cyberbullying? What roles can the following commu­nity members play in providing solutions: Teachers? School Administrators? Parents? Police? Mental Healthcare Professionals?
Admission is FREE but please pick up tickets for the live performance at
your local school or the District 16 Office (This enables us to plan effectively)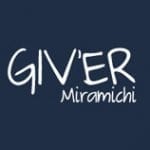 Giv'er Miramichi is about "What's up, what's new, what's happening". We are focused on building people up, supporting one another and celebrating our successes.