Shoebox Gifts Bring Joy to Kids

The Christmas season is coming quickly and with it, many inquiries and questions regarding 'Operation Christmas Child'. Now in its 13th year, Operation Christmas Child provides a practical way for us to share love with children living in countries that have been ravaged by war, poverty or natural disaster.
For many children, a shoebox filled with small treasures is the only gift they will receive at Christmas. It is very special to know that last year, 1,620 shoebox gifts were lovingly packed by generous Miramichiers. Groups and families who took part are extremely excited about doing so again, and in fact, are already well under way. The project in Miramichi encompasses all churches, schools, groups and individuals who care to be involved.
The idea is simple: find an empty shoebox, any box will do. You can wrap it, lid separately if you would like. Fill it with small toys, school supplies and hygiene items like a tooth brush or a comb, then place $5 in the box for shipping. Once the box is filled, take it to a drop off center. It will then be sent via transport truck and plane to children in foreign countries.Last year schools, churches, groups and individuals across Canada were involved in the program resulting in 735,690 shoeboxes being collected. Worldwide, more than seven million boxes were distributed. These simple gifts have made a significant impact on the lives of suffering children around the world.
The local collection centre for this area is Boom Road Pentecostal Church (Sunny Corner). For individuals in Miramichi West, there is a drop off centre at Black Eagle Construction, located at 67 Newcastle Blvd. For Miramchi East, the drop off centre is Son-Light Christian Book Store, located in the Bridgeview Plaza in Douglastown. These can be dropped off Monday to Saturday. Shoeboxes and labels may be picked up, and filled boxes returned to one of these three centers. The centers will receive boxes Nov. 1-12. For more information, contact Gwen Williams at home at 836-9971 or at work at 836-2609 or contact Gail Surette at home at 622-4258 or at work at 622-1166. http://www.samaritanspurse.com/OCC_Index.asp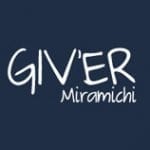 Giv'er Miramichi is about "What's up, what's new, what's happening". We are focused on building people up, supporting one another and celebrating our successes.