Mighty Miramichi Inc was one of fifteen New Brunswick companies honoured at the Government of New Brunswick's first annual Innovation Recognition Banquet in Fredericton on Oct. 17. The companies were nominated by each Enterprise Agency in the province, and were selected because of their outstanding ability to adopt innovation in their enterprises.
Business New Brunswick Minister Peter Mesheau presented the certificates to each company, while Premier Bernard Lord delivered the keynote address.
"Though these companies come from different industries, they share one common element – their commitment to innovation," Lord said. "These entrepreneurs have recognized that the need for innovation never ends. There's always a place for new ideas, for new thinking, for an improved way of doing things. I offer my congratulations to each of these companies for leading the way in embracing innovation."
"We hope to make the innovation recognition banquet an annual event during Small Business Week," Mesheau said. "It's important to honour these companies as an example to all businesses in New Brunswick. This is what you can accomplish when you adopt innovation in your business, from human resources and research and development to technology."
The awards ceremony was held on the opening day of Small Business Week, an annual event to mark the contribution that New Brunswick's 26,000 small businesses make to the provincial economy.
The winners are:
Johnson Enterprise Inc., Val D'Amours, nominated by Enterprise Restigouche;
Canglide Inc., Bathurst, nominated by Enterprise Chaleur;
ECO Technologies, Pigeon-Hill, nominated by Enterprise Peninsula;
Mighty Miramichi Inc., Miramichi, nominated by Enterprise Miramichi;
Allain Equipment Manufacturing Ltd., Notre-Dame, nominated by Enterprise Kent;
InteliSys Aviation Systems Inc., Shediac, nominated by Enterprise Southeast;
Topcoat Solutions Inc., Moncton, nominated by Enterprise Greater Moncton;
Rusty Hinges, Long Point, nominated by Enterprise Fundy;
Base Engineering Inc., Saint John, nominated by Enterprise Saint John;
Pennfield Logging Inc., Pennfield, nominated by Enterprise Charlotte;
MedBridge Systems, Fredericton, nominated by Enterprise Fredericton;
Precision Metal Works Ltd., Mactaquac, nominated by Enterprise Central NB;
Aernet Wireless Inc., Beardsley, nominated by Enterprise Carleton;
Briggs Engineered Wood Products, Plaster Rock, nominated by Enterprise Grand Falls;
Lizotte Consultants Ltée, Rivière-Verte, nominated by Enterprise Madawaska.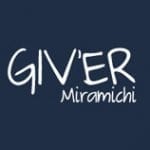 Giv'er Miramichi is about "What's up, what's new, what's happening". We are focused on building people up, supporting one another and celebrating our successes.