Women's Wellness Conference slated for March 8
Women are encouraged to circle March 8th on their calendars to attend "A Day for Women" being held in celebration of International Women's Day 2006.
The Women's Wellness Program committee at the Miramichi Regional Health Authority wanted to celebrate the upcoming day by giving women the opportunity to obtain education on female health issues and listen to informative presentations that will enable them to address their everyday concerns. Because of this, the International Women's Day committee was formed with several MRHA employees and volunteers from the communities which the health authority serves.
March 8 will feature three enlightening speakers, two of which will look at the non-medicinal ways of helping females cope in their busy lives. The third will be a presentation about bone health, a very important topic to the women of the region.
The day begins at 8:30 a.m. with nurse Peggy Porter who is also a writer, mentor, wellness coach and president of Seeking Balance. She is passionate about wellness and personal growth. A wife of 13 years, and mother to two children, by putting herself first, she has achieved a happily balanced lifestyle that allows her to do all the things she loves.
Porter says women often place too much stress on themselves by trying to do everything at once. In order to achieve happiness and a sense of balance, she believes women have to put their own needs first. Her keynote presentation will allow the females in attendance to determine where their life is out of balance and then design a plan to get them where they want to be.
The first afternoon session begins at 1pm and the second presentation at 2:30pm. Speaking at 1pm will be Mary Magnus who delivers educational sessions on behalf of the Canadian Mental Health Association. This lively and interactive presentation looks at the many ways people can lighten up, laugh, and recognize that life is not just to be endured but enjoyed intensely. Women are invited to learn how laughter can overcome some of their own roadblocks to a balanced, peaceful, and fun-filled life. They will learn that laughter is a vital, dynamic tool that can be used to increase productivity, retain information and relieve stress and tension.
Presenter Mary Magnus is a Regional Community Worker for Sussex and Saint John with the Canadian Mental Health Association. She facilitates numerous workshops, programs and presentations on mental health. She also provides private practice counselling, specializing in grief and depression.Bone health is on the agenda for the third presentation in this women's wellness conference. Registered dieticians from the Dairy Farmers of Canada will be conducting this informative presentation on women's bone health. Their presentation will discuss nutrition, osteoporosis, and preventive measures females can take to ensure their bones stay healthy later in life. They will also have available a portable ultrasound bone densitometer that will provide a bone quality screening test that can be used for detection of individuals at risk of osteoporosis. The results of this test are by no means a diagnosis nor a screening to identify people who should seek treatment of osteoporosis.
Registration for this conference ends February 28. The seating is limited. "A Day for Women" will be held in the Highland Theatre at the Miramichi Regional Hospital. For more information or to register (beginning Feb. 13) please call 623-6136 or visit and choose A Day for Women on the side menu.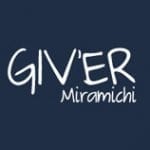 Giv'er Miramichi is about "What's up, what's new, what's happening". We are focused on building people up, supporting one another and celebrating our successes.