Kidney Foundation Miramichi Chapter launches Kidney Month
The Kidney Foundation of Canada, Local Miramichi Chapter will officially launch Kidney Month and its March Drive at the Miramichi Regional Hospital on March 1, 2006 at 10:30 a.m. in the level 5 View Point Dining Room. Their official partnership with Northumberland Dairy in promoting kidney health will also be launched. An information display will be available in the lobby of the Miramichi Regional Hospital from March1-7.
In attendance will be John McKay, Mayor of the City of Miramichi, Jennifer Dobbelsteyn, executive director of the Kidney Foundation, New Brunswick Branch, Karen Buchanan, fundraising coordinator for the Kidney Foundation of Canada, New Brunswick Branch, Marilyn Underhill, vice-president for professional services at the Miramichi Regional Health Authority, Frank Gallivan, Northumberland Dairy Sales Representative, local Miramichi chapter members, March Drive volunteers and special guest speaker, Jack Fracker, future kidney transplant recipient and Kidney Foundation Miramichi Chapter Board member.
"This will be an opportunity to inform the community about the Kidney Foundation of Canada and the work it does as well as provide information about the prevention of kidney disease," says Elizabeth Chute, Miramichi Chapter President. She says Mr. Fracker will also offer his perspective as a kidney patient. Fracker is scheduled to have his kidney transplant in March.
"Northumberland Dairy is proud to team up with the Kidney Foundation to assist in creating awareness about kidney disease by providing information on its Northumberland 2L milk cartons," said Jack Christie, General Manager of the New Brunswick owned dairy. "Northumberland Dairy has been involved in supporting non-profit organizations with its milk carton side panel advertising program for many years. This is a unique and effective way Northumberland can help share this important message to people across the province, " continued Christie. The program runs for approximately four weeks in stores and remains in the consumers' homes for over six weeks.
According to the Kidney Foundation of Canada, New Brunswick Chapter there is currently 1,100 New Brunswickers being served by dialysis units. There is also a need for kidney transplants. "The need for kidney transplants far exceeds the availability or organs," says Kathryn Keith-Irving, RN and organ and tissue procurement coordinator for the Miramichi Regional Health Authority. "We value and appreciate the work the Kidney Foundation of Canada does in relation to the promotion of organ and tissue donation in their annual campaigns." She says their campaigns have heightened awareness about the importance of organ and tissue donation in the community.
The Kidney Foundation of Canada is a national volunteer organization committed to reducing the burden of kidney disease through funding and stimulating innovative research; providing education and support; promoting access to high quality healthcare; and increasing public awareness and commitment to advancing kidney health and organ donation. The Kidney Foundation of Canada has provided $70 million for medical research in Canada since 1964 when it was founded. It now focuses on both the 33,000 people in Canada with end stage renal failure (kidney disease) and the 1.9 million people whose kidney health is at risk.
For more information about the Kidney Foundation of Canada, please call Elizabeth Chute at 622-8251 or www.kidney.ca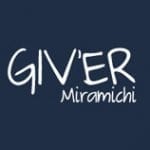 Giv'er Miramichi is about "What's up, what's new, what's happening". We are focused on building people up, supporting one another and celebrating our successes.