The shoe box gift deadline is drawing near- Nov. 18
This is something me and my family enjoy doing each year. All you have to do is get an empty shoebox and fill it with school supplies, toys, soap, toothbrushes, etc. The dollar store is a great place to go for these items, and we usually end up filling 2 or 3 boxes each.
Choose if you are going to buy for a boy or a girl, and the age group; 2-4, 5-9, 10-14. Go to their website for more information on filling a box and to print out box labels, or pick them up at the locations below.
Drop-off schedule for items and boxes. You can also pick up an empty shoe box if you don't have one.
• Boxes can be picked up and items can be dropped off beginning Nov. 3rd, in the evening and Nov. 4th, all day at the table in Northumberland Square Mall.
• Or pick them up or drop them off at the Newcastle United Baptist Church (www.nubc.com) 582 King George Hwy.
Dates:
Nov 14-15: 4-8 pm
Nov 16-17: 12-8 pm
Nov 18th: 9 am – 5 pm
Visit the Samaritans Purse website to find out what kind of items to put in a box, to print out box labels, download the form to include with your donation, see which countries the donations go to, and learn more about Operation Christmas Child.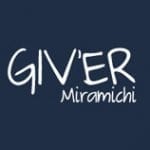 Giv'er Miramichi is about "What's up, what's new, what's happening". We are focused on building people up, supporting one another and celebrating our successes.