Bread 'n Molasses Magazine Goes Into Print Production

Exciting news! After months of preparation, Bread 'n Molasses magazine launched a print edition exclusively in the Miramichi region this week. That's right, now there's even more Bread 'n Molasses out there for you to enjoy!
The print edition will be published six times per year with great articles, stories and regular features that you won't find anywhere else. You can purchase a yearly subscription online so you don't miss any of the fun or drop by one of the local retailers and pick up a single issue. Our premiere issue is currently for sale at the Books Inn in Newcastle; Bill's Quikway in Chatham; 4D Grocery in Burnt Church; Kwik Mart in Neguac; Annie's Country Store in Tabusintac; and your local Pharmasave in Doaktown, Blackville and Newcastle. Support independent publishing in the Miramichi and pick up your copy today.
In the first edition we bring back our When I Was a Young Lad regular feature that we used to run online a couple of years ago. Now, this regular feature will be exclusive to our print edition and we're starting it all off this issue with memories of growing up in Morrison Cove from Joan Cripps. Other new regular features you'll find only in the print edition are Miss Alley's Life and Relationship advice column, Mighty Crafty how-to tips, SammyScope predictions, computer tips, and more. All this and some really great feature articles too.
In the current issue I travel to Fredericton to meet an Inuit artist formerly from the Miramichi and find more than I bargained for as I'm welcomed into this young man's home for an unforgettable afternoon of conversation about art, inspiration, family, history, responsibility and destiny. Alec Lawson Tuckatuck is pursuing his passion and his destiny, and keeping the ancient ways alive.
As the air takes on that crisp autumn chill and people open closets and trunks to find their heavier coats, I head to the cleaners and find Frank and Patsy MacLaughlin. MacLaughlin's Dry Cleaners have been serving the Miramichi region for almost 20 years, but you probably don't know this about them. See what I found out about how the MacLaughlin's are leading the way in Atlantic Canada.
Our favourite Newfoundlander retiree makes her Bread 'n Molasses print debut after months of sharing her stories with us online. Like many Miramichiers today, Bonnie Jarvis-Lowe's family are scattered across the country. Yes, she misses and loves them all dearly, but there's one little girl in particular that she wishes could be closer. Follow the story as this grandmother discovers a new way to keep tabs on the ones she loves.
When was the last time you went to Tabusintac? I took a gander downriver and you won't believe what they're doing! This tiny community has a big goal with the plan and support system to take it all the way to the top. Tabusintac is on a mission to build a future for all ages and so far the results are pretty impressive.
You'll find all of these feature articles and more in the first printed edition of Bread 'n Molasses magazines on sale now. We hope you're as excited about this mighty adventure as we are!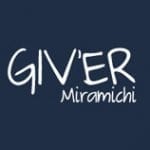 Giv'er Miramichi is about "What's up, what's new, what's happening". We are focused on building people up, supporting one another and celebrating our successes.