Lifestyle change gives Geikie more energy


Mango's latest champion of the community is Gwen Geikie.
Geikie was nominated by her manager and described as a model for her co-workers. "Gwen's nomination is exactly what we want to see when we choose our champions: making small lifestyle changes in order to see big results, " says Mango coordinator and dietitian Jacqueline Noseworthy.
Mango's initiative, Mango Champion of the Community sees Mango recognizing and profiling members of the region who are living as Mango encourages the community to live: eating well and being active.
Gwen's Story
Geikie is an administrative support supervisor at the Extra-Mural Program of the Miramichi Regional Health Authority. In addition to losing 42 pounds since September 2006, she has become a role model to her co-workers and family.
"I was a big fan of eating junk food and would not eat a proper meal," Geikie describes. "I wanted energy so that I didn't go into a slump at two o'clock every day."
Geikie started her journey to change her lifestyle habits by going to the gym each morning with her daughter. She put more fruits and vegetables into her diet and cut back on the amount of fat she consumes.
"I now have the motivation to go to the gym every morning with my three children."
Want to nominate someone for Mango Champion of the Community?
Nominations for Mango's Champion of the Community can be sent in several ways. Send us the nominees name and contact information by mail to Mango Champion of the Community, 500 Water St., Miramichi, NB E1V 3G5; by email to or by fax to (506) 623-3502. Drop-boxes are also located in the Miramichi Regional Hospital lobby and both McDonald's restaurants in Douglastown and Walmart. For more details, call 623-3503 or visit www.rha7.ca
Mango's Champion of the Community is brought to you by McDonald's restaurants: working with Mango to recognize healthy champions in our community.
Mango is a population-health based community program that promotes healthy eating and active living throughout the region. Its' goal is to decrease overweight and obesity by 10% by the year 2008 through initiatives such as this one.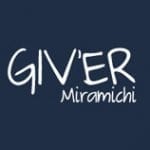 Giv'er Miramichi is about "What's up, what's new, what's happening". We are focused on building people up, supporting one another and celebrating our successes.