Miramichier Among Contributors Selected for Vagrant Review
In May 2007, Vagrant Press will release The Vagrant Revue of New Fiction, a collection of 15 short stories by gifted Atlantic Canadian writers on the cusp of their literary careers. The selected stories are as varied and beautifully weird as the East Coast itself.
Co-editors Sandra McIntyre and Mary Jo Anderson received more than 200 submissions for the project. They were looking for—and found—new and extraordinary literary voices. The writers range widely in age, location and experience but are knit together in this eclectic collection by the superior quality of their writing, their connection to Atlantic Canada, and their potential to become the next big thing. You will hear more from these writers in the future.
The Vagrant Revue is an inspiration to aspiring writers, a goldmine for serious readers, and a vital, edgy addition to the Atlantic Canadian literary canon.
The selected stories are:
The White Rose BBQ by Brent White of Fredericton, NB
Hens by Janet Parker Vaughan from Middleton, NS
Why Do Birds? by Lee Thompson of Moncton, NB
What It Would Make of Him by Darcy Rhyno from Little Harbour, NS
Seventeen Heresies by Elizabeth Peirce of Halifax, NS
A Good Place to Come From by Sarah Mian from Halifax, NS
I Like to Hold Your Hand by Nina Lassam of Halifax, NS
One Last Thing by Amy Jones from Halifax, NS
You, Jane by Joanne Jefferson of Pleasantville, NS
City of Trees by Joey Comeau from Halifax, NS
Standin' Up by Rhian Colcott of Bridgewater, NS
Pardon-speaking blood by Michelle Butler Hallett from St. John's, NL
Extinction by Erna Buffie of Halifax, NS
Home Fires Burning Bright by Judy Bowman from Miramichi, NB
Heroes Until by Russell Barton of Dartmouth, NS
Sandra McIntyre is the Managing Editor at Nimbus Publishing/Vagrant Press. She has earned a master's degree in English literature from Dalhousie University and has since spent six years in book publishing. Her passion for books and especially new authors has transformed the Atlantic Canadian publishing world.
Mary Jo Anderson is a major force in both the regional and national book industry. A founding member of Word on the Street Halifax, she has written articles and book reviews for the Globe and Mail and the Chronicle Herald, and has been a regular book panellist on CBC Radio.
Judy Bowman writes a regular column for The Miramichi Leader and is a contributore to Bread 'n Molasses magazine. Her poetry and short fiction have been published in literary journals. Past president of the Writers' Federation of New Brunswick, she has received two Emerging Artist awards from the NB Arts Board, was commissioned for an art and narrative project for Year of the Veteran, and has a mania for flying. Congratulations Judy! It's a tremendous honour to be selected for this anthology. We wish you every success!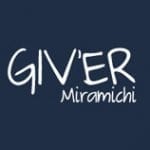 Giv'er Miramichi is about "What's up, what's new, what's happening". We are focused on building people up, supporting one another and celebrating our successes.