National Immunization Awareness Week to be celebrated
National Immunization Awareness Week will be celebrated the week of April 22 to 28 The theme of this year's week is "Immunization: Are you up to date?". Miramichi public health professionals will be marking the week by holding an information display in the Miramichi Regional Hospital lobby during the week of April 16. Public health nurses will be available to answer questions from the public on Wednesday, April 17 in the morning and Friday, April 20, in the afternoon.
"This week is an opportunity to inform the community about the importance of vaccinations for all ages," says Jeanne Comeau, Miramichi Public Health Nurse – Immunization Coordinator. She says that immunizations are not just for infants and children. "It is important for all individuals to be up to date with their vaccinations." She recommends individuals speak to their family doctor or public health office about immunizations.
"Few measures in preventative medicine are of such proven value and as easy to implement as routine immunization against infectious diseases." She says immunization carried out as recommended will provide good basic protection against serious diseases.
For more information about immunizations, call the Miramichi Public Health office at 778-6102.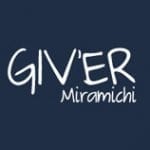 Giv'er Miramichi is about "What's up, what's new, what's happening". We are focused on building people up, supporting one another and celebrating our successes.