Smoke Free Property Policy to be implemented next week
Beginning May 1, all Miramichi Regional Health Authority properties including the inside of vehicles parked on the property will be smoke free. "This policy supports the health authority's vision of healthier people and healthier communities and will provide a safe environment for both staff and patients," says Gary Foley, president and CEO.
He says that patients will be offered support during their hospital stay and smoking cessation programs are available to staff. Information available to patients include a "Quit Kit" that contains information about how to quit smoking and available resources. Patients admitted to hospital will also be offered nicotine replacement therapy.
"On May 1 we will join other health authorities in New Brunswick and across Canada by demonstrating our commitment to health promotion and disease prevention." He says that the health authority has been preparing to implement this policy for over a year.
"As a health care organization, we have a duty to provide leadership in health policy and practice," says Russell Whitney, board chairperson. "Although we recognize there will be challenges along the way, we are committed to health promotion and disease prevention within our region. This policy is a positive step forward in building both a healthier work environment and a healthier region." The Miramichi Regional Health Authority's Board of Directors accepted and approved the Professional Advisory Committee's recommended smoke free properties policy for the organization. Through the assistance of Health Canada, a coordinator and administrative support personnel were hired to coordinate the implementation of this important health policy under the direction of the Quality Improvement Environment Team and Smoke Free Properties committee.
Dr. Michael Dickinson, chairperson of the Medical Advisory Committee also endorses the policy. "As physicians we applaud this policy as tobacco use is an addictive behavior and plays a major role in contributing to negative health outcomes for the citizens of our region." He says that tobacco use is considered the single most significant cause of preventable death in Canada and any effort to prevent this is positive.
"This policy also addresses the increasing number of complaints, concerns, and health incidents relative to people smoking near the building entrances," says Jean-Guy Richard, vice president of administration and chief financial officer. "This policy is important in reducing the risk to non-smokers being exposed to second hand smoke that has been proven to cause cancer as well as reduce the risks to those with allergies, environmental sensitivities and expectant mothers. He says the smoke free committee under the direction of the Environmental Services team has been working hard to put this healthy policy in place.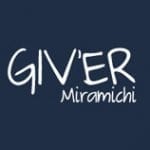 Giv'er Miramichi is about "What's up, what's new, what's happening". We are focused on building people up, supporting one another and celebrating our successes.