David Adams Richards at Frye Festival in Moncton this Weekend
Renowned New Brunswick author David Adams Richards will present the second Antonine Maillet – Northrop Frye Lecture on Saturday, April 28 from noon to 1 pm. The theme of the lecture will be "Playing the Inside Out". The event will take place during the Frye Festival at Moncton City Hall in the Council Chambers at 655 Main Street. The conference will be in English with simultaneous interpretation.
Born in 1950 in Newcastle, N.B., David Adams Richards currently writes in Toronto. He is known for his almost mythic vision. The Vancouver Sun calls him "perhaps the greatest Canadian writer alive". His latest book The Friends of Meager Fortune was published in 2006 by Doubleday Canada.
In his lecture, David Adams Richards will consider the intellectual, emotional and imaginative strength required to stand by one's convictions as a writer of fiction.
"A writer must never compromise his imaginative vision in order to be accepted. The result will be an erosion of his art," explains Paul Curtis, English Professor at the Université de Moncton and one of the organizers of the event, in reference to Richards' talk.
The writer will also observe how writers in the Maritimes have long been outside the economic and political centres of power, but not the cultural centre. "From this relatively marginal position, the attraction to modify one's vision in order to be accepted appears all the more powerful," says Curtis.
These themes of the outsider as well economic and political centres of power are very much in evidence in Mr. Richards latest and perhaps most powerful novel The Friends of Meager Fortune.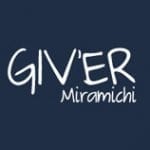 Giv'er Miramichi is about "What's up, what's new, what's happening". We are focused on building people up, supporting one another and celebrating our successes.