Summary of April 23, 2007 Board Meeting
The Miramichi Regional Health Authority (MRHA) Board of Directors held its monthly meeting on April 23, 2007 at the Miramichi Regional Hospital. The following are highlights of the meeting:
1. Procedure developed to address overcrowding in the ER
In her report to the Board, Annette LeBouthillier, vice president of patient services reported that a protocol had been developed to outline the procedure to be used if more than four patients are waiting in the emergency department for admission to hospital. She said the procedure would be implemented immediately, assessed on a daily basis and completely reviewed in two weeks.
Gary Foley, president and CEO reported that he had attended a Strategic Think Tank Session in Fredericton to address the current situation of patients in hospital waiting for a nursing home bed. He said the session was very productive and involved senior members of government and representatives from the regional health authorities, nursing homes and senior citizen homes. A report will be generated from the recommendations and submitted to government for consideration. He stated that an average of 22 patients per month are in the Miramichi Regional Hospital waiting for a nursing home bed or alternate level of care facility. This equates to one nursing unit in the MRHA facility.
2. Smoke Free Properties Policy to be implemented on May 1
The Board was informed through the Professional Advisory Committee report that everything is in place to implement the Smoke Free Properties policy on May 1. All properties owned and operated by the Miramichi Regional Health Authority will be smoke free including vehicles parked on the property. Gary Foley, president and CEO says that patients will be offered support during their hospital stay and smoking cessation programs are available to staff. Information available to patients includes a "Quit Kit" that contains information about how to quit smoking and available resources. Patients admitted to hospital will also be offered nicotine replacement therapy. "Although we recognize there will be challenges along the way, we are committed to health promotion and disease prevention within our region. This policy is a positive step forward in building both a healthier work environment and a healthier region." The Board unanimously supported the implementation of this policy.
3. Recruitment Update – two additional physicians join the health authority
Gary Foley, President and CEO provided the committee with a recruitment update. He was pleased to inform them that Dr. Walter Binedell, internist and Dr. Prabaharan Balasingham, surgeon had arrived. The addition of Dr. Balasingham completes the region's full complement of general surgeons. He was also pleased to report that an urologist has signed a contract and is expected in August and an internist is in the process of going through immigration. He said the health authority is in active discussions with an ophthalmologist, internists, radiologists and family physicians. Board chairperson Russell Whitney congratulated the health authority team for doing a great job in recruiting physicians.
Mr. Foley noted that all office space currently owned by the health authority is now filled and he has acquired additional space at the South Side Medical Clinic and Pharmasave in Newcastle.
In other areas of recruitment, Marilyn Underhill, vice president of professional services was pleased to inform the board that a full time occupational therapist, a full-time physiotherapist and a casual lab technologist had been hired. Annette LeBouthillier, vice-president of patient services reported that 12 graduate nurses and one registered nurse had been hired and will be starting in May 2007.
Mrs. LeBouthillier was also pleased to report that Alice Johnston had been awarded the position of First Nations Liaison Interpreter for the Miramichi Regional Health Authority. Johnston will be responsible to provide interpretative/translation assistance and services to health care staff and First Nations patients/clients receiving care and services at the Miramichi Regional Hospital; act as a liaison between First Nations patients, their families and hospital staff to address issues that may arise; and provide cultural awareness and education to staff regarding First Nation's culture and traditions.
Johnston's home community is the Metepenagiag First Nation. "She brings with her over 15 years of experience in working with First Nations people in a health care setting and promoting native culture in the United States," says LeBouthillier. She says her fluency in the Mic maq language, education in native studies and psychology, understanding of the First Nation's culture, and knowledge of the health care system will be an asset to First Nations clients who require hospitalization at the Miramichi Regional Hospital.

4. Financial Summary
The Miramichi Regional Health authority reported an eleven month operating deficit of $1.5 million. It is projected the health authority will be within its projected year end deficit of $2 million. "The Board approved the $2 million deficit in September 2006 as a necessity to maintain current services," said Russell Whitney, Board Chairperson. Contributing factors to the deficit include costs associated with physician locums, recruitment, high occupancy rates of patients in the emergency department observation area waiting for a hospital bed, and high patient days in the medical units, pediatrics and outpatient clinics.
The Board was also informed that all recommendations outlined in the 2001 Deloitte and Touche Financial Controls document had been met and will continue to be reviewed on an annual basis.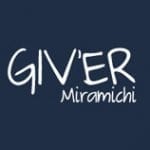 Giv'er Miramichi is about "What's up, what's new, what's happening". We are focused on building people up, supporting one another and celebrating our successes.